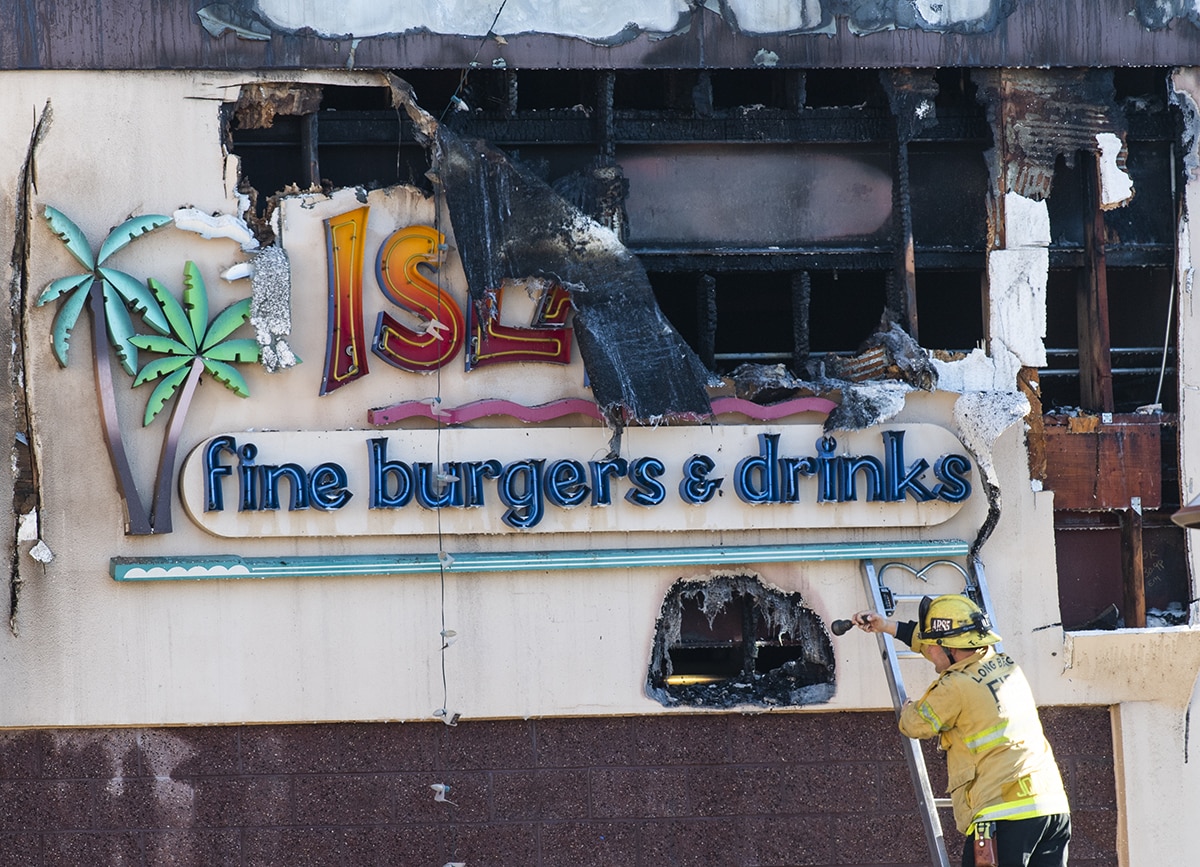 Over 70 firefighters battled a stubborn fire in the attic space of the Long Beach Towne Center's Islands restaurant, according to authorities.
People who were passing by originally reported the fire at 6 a.m., Saturday morning when they saw smoke coming from the building. When firefighters got there, they realized the fire was smoldering in the attic crawl space, making it difficult for firefighters to access, Long Beach Fire Department spokesman Brian Fisk said.
The body of the fire was knocked down by 6:30 a.m., but the crawl space was still smoldering until full knock down at 9:48 a.m.
"Its one of those stubborn fires in the attic crawl space," Fisk said. "It's a lot of smoke, not a lot of fire."
Despite that, the fire was labor intensive and quickly went to being classified as a 4-alarm fire purely to add more manpower. Firefighters had to use chain saws to open up the exterior of the roof to put out the smoldering parts, Fisk said.
No injuries have been reported so far.
LBFD requested assistance from Los Angeles County Fire Department, Orange County Fire Department, Downey Fire Department and Compton Fire Department to backfill the stations in the city during the incident.
Editor's note: This story has been updated. 
LBFD resources on scene for an attic fire at islands restaurant in town center. Fire crews making progress creating access to difficult crawlspace where fire is suspect. 3rd alarm called for manpower. No injuries reported. pic.twitter.com/hNqFvKyCbg

— Long Beach Fire (CA) (@lbfd) January 19, 2019
Valerie Osier is a breaking news reporter for the Long Beach Post. Reach her at [email protected] or on Twitter @ValerieOsier
Free news isn't cheap.
We believe that everyone should have access to important local news, for free.
However, it costs money to keep a local news organization like this one—independently owned and operated here in Long Beach, without the backing of any national corporation—alive.
If independent local news is important to you, please consider supporting us with a monthly or one-time contribution. Read more.