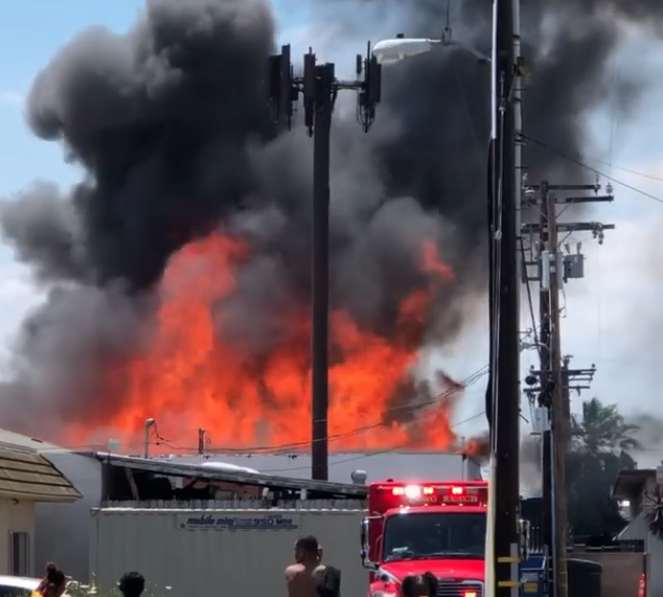 Fire crews are investigating whether an explosion sparked a large fire that left a man with severe burns in North Long Beach this afternoon.
The blaze started around 1:45 p.m. at a commercial building near Downey Avenue and 59th Street, Long Beach Fire Department spokesman Brian Fisk said.
When firefighters got to the scene, they found a large amount of smoke and flames coming from the roof. They signaled a second-alarm response to call in more firefighting resources, Fisk said.
A man in his 30s was sitting on the curb with burns over 40% of his body, according to Fisk. He was taken to a local trauma center, Fisk said.
Crews battled the blaze for about half an hour before getting it knocked down, according to the LBFD.
Firefighters found what appeared to be drug-processing equipment inside and called in hazardous materials crews to determine what kind of chemicals were being used, according to Fisk. He said, however, there doesn't appear to be any further risk to the pubic.
Residents at a nearby hospice facility evacuated their building, said Daniel Huerta, who was visiting a family member there.
"There was a lot of smoke," he said, which drove them out of the building, although it wasn't damaged.
Valerie Osier is a breaking news reporter for the Long Beach Post. Reach her at [email protected] or on Twitter @ValerieOsier
Support our journalism.
It's been one year since the Long Beach Post began asking you, our readers, to contribute to keeping local journalism alive in the city.
Thousands have contributed over the past year giving an average contribution of $12.39 a month.
Please consider what the news and information you get every day from the Post means to you, and start a recurring monthly contribution now. READ MORE.