When I was a kid, at least one fresh bakery was on every commercial street. The best part for us was getting a cookie from the baker every time our parents bought bread or cake for the family. As of last week, dogs can do that, too, except that dogs are the only family members that the bakery caters to. Not that you can't taste them as well.
"There are dogs that come by and expect their free treats," said Rocky Kanaka, who with wife Kelly Hannaford owns and manages The Dog Bakery. The bakery opened its first location in Pasadena 13 years ago and received enough paws-ups to follow with six more in the Los Angeles area, including two limited stores inside Pet Food Express locations and a kiosk in Delta Terminal 5 at Los Angeles International Airport.
"That's in case you come back from a trip and get all guilty because you forgot to get the dog something," Kanaka said.
The Belmont Shore Dog Bakery had a soft opening Oct. 24 in the Second Street space formerly occupied by Pussy & Pooch, another high-quality pet-centered store. Kanaka and Hannaford wanted to test the waters with a limited doggie paddle and plan a grand opening and ribbon cutting early in November.
The Pet Bakery specializes in a mouthwatering assortment of homemade cakes and "pupstries" that you might fight over with Bella or Cooper. Truly, you could share them and enjoy them, too—just don't eat them in front of your dog. You know the look they give you when you won't share.
This video shows Kanaka, Hannaford and the staff whipping up peanut-butter cups and doggie Kit Kats for their Growloween trick-or-treat. The group actually built a neighborhood inside one of the bakeries for the dogs to enjoy, particularly special guest Willy Wonka. Willy was born with two deformed front legs, which didn't stop her from house hopping and enjoying the goodies at least as much as the human bakers did.
In addition to the baked goods, The Dog Bakery carries many of the same types of items that Pussy & Pooch did: collars, leashes, beds and toys for both dogs and cats. High-quality cat and dog food and packaged treats are available, and there's a little area with birthday-party goodies for dogs—cats, too, if they take kindly to wearing a party hat. You can reserve a room in the store for private doggie birthdays, and Kanaka and Hannaford plan other events in the future.
The Dog Bakery also has an online presence—they ship goodies all over the country. But Kanaka and Hannaford consider physical retail stores as important presences in communities.
"A brick-and-mortar store puts you right in the middle of it all, and the pets can actually taste the goodies," Kanaka said. "All of our decisions are community based. That's why we had the soft opening first—to feel out the community and scratch a few ears."
A few visits and walk-bys gave evidence that both people dogs are as ecstatic as, well, kids in a bakery.
https://www.youtube.com/watch?v=KN96kZs9vkU&feature=youtu.be
Although the goodies look decadent, they're better for dogs than cookies are for people. Kanaka and Hannaford are careful with ingredients. The dog's palate and the human's visual sensibilities are all important. Cream on cakes is actually sour and not sweet, and the pink frosting on the cake is colored with beet juice, and their Grain-Free Dog Cake is made with pumpkin puree (chicken soup for the tummy), honey, oil, eggs, baking soda and buckwheat. Buckwheat, Kanaka explained, isn't a form of wheat or any grain but a gluten-free seed from a plant related to rhubarb.
Kanaka said that the biggest challenge of baking for dogs, besides making all the ingredients stick together and appear and be delectable, is to learn what they can't have, and why. A substance found naturally in grapes, for example, can be fatal to dogs; and a chemical compound in chocolate is difficult for them to process and can cause toxic reactions, such as seizures. Kanaka and Hannaford substitute carob for the chocolate—good, and good for you.
"The ingredients are all stuff you would eat—the things you find in your grandma's cupboard," Kanaka said. The only thing my grandmother had in her cupboard was Harvey's Bristol Cream sherry, but you get the idea.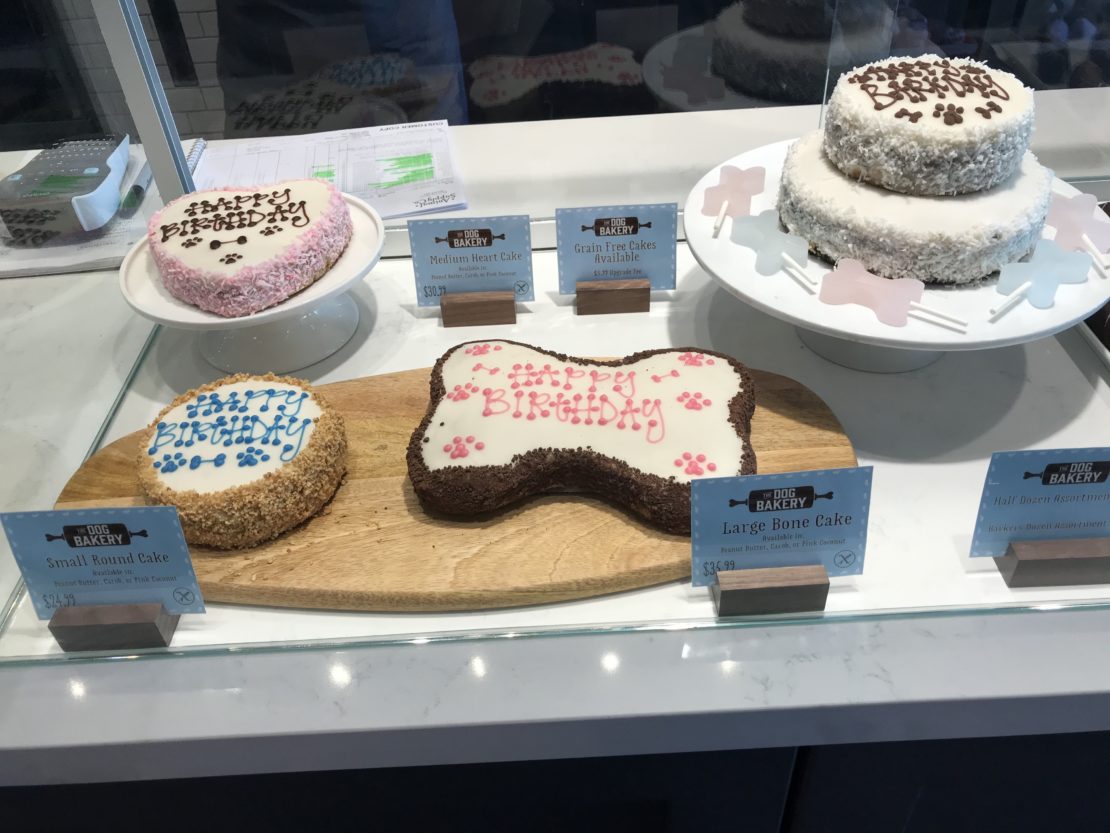 If Rocky Kanaka looks familiar to any of you, it's because you've seen him on the show he co-produces. "Save Our Shelter" broadcasts on The CW and Netflix (episodes can also be watched on their website). For the show, the production team travels to shelters across the United States and Canada and assists them through mobilizing volunteers, helping with adoptions, and involving the community at large.
Rescue is a big part of the work that Kanaka and Hannaford want to do for the community. When they met during the early years of The Dog Bakery, their mutual interest in cooking for pets and rescuing them as well led to dating, marriage and a load of projects. They plan to invite local dog and cat rescues and nearby shelters to hold adoption events at the Belmont Shore store and reach out to them for events.
Doggie birthday parties, special cakes and lavish events. Do we spoil our pets? Yes, and so what? A recent study by market-study website Compare the Market cited Long Beach as No. 1 of 42 reported cities that pamper their dogs—259 dog salons, 449 kennels and 754 veterinarians, they stated. Now, we have a neighborhood bakery, whose owners see the opposite of "spoil," as many in pet rescue do. On Thanksgiving, The Dog Bakery locations will prepare and sell home-cooked Barksgiving Day dinners for dogs, with pot pie, doggie mashed potatoes, pumpkin pie and a squeaky toy. The Dog Bakery staff will also visit shelters and hand out the self-same meals to dogs living there.
Welcome to the community, The Dog Bakery!
One particular Barksgiving Day at a shelter. Put a box of tissues near your monitor.
The Dog Bakery is located at 4818 E. Second St., Long Beach. Stay tuned for the grand opening date.