Virtually Pets
Every volunteer deserves a shout-out and a slice of butter cake a la mode from Nick's for getting up and giving their time, their hearts and sometimes the contents of their wallets to do good things for free. Many volunteers work at least as hard as someone drawing a salary—passion is payment for the "someones" referred to in the whingey bleat "Why doesn't someone do something about this?"
Butter cake wasn't on the table for Long Beach Animal Care Services volunteers at the shelter on Sunday,  but there was a terrific lunch with tacos and vegan stuff. The shelter staff showered their favorite people—all the volunteers—with appreciation: with a luncheon, a few wacky games, and awards for outstanding contributions. The honorees included: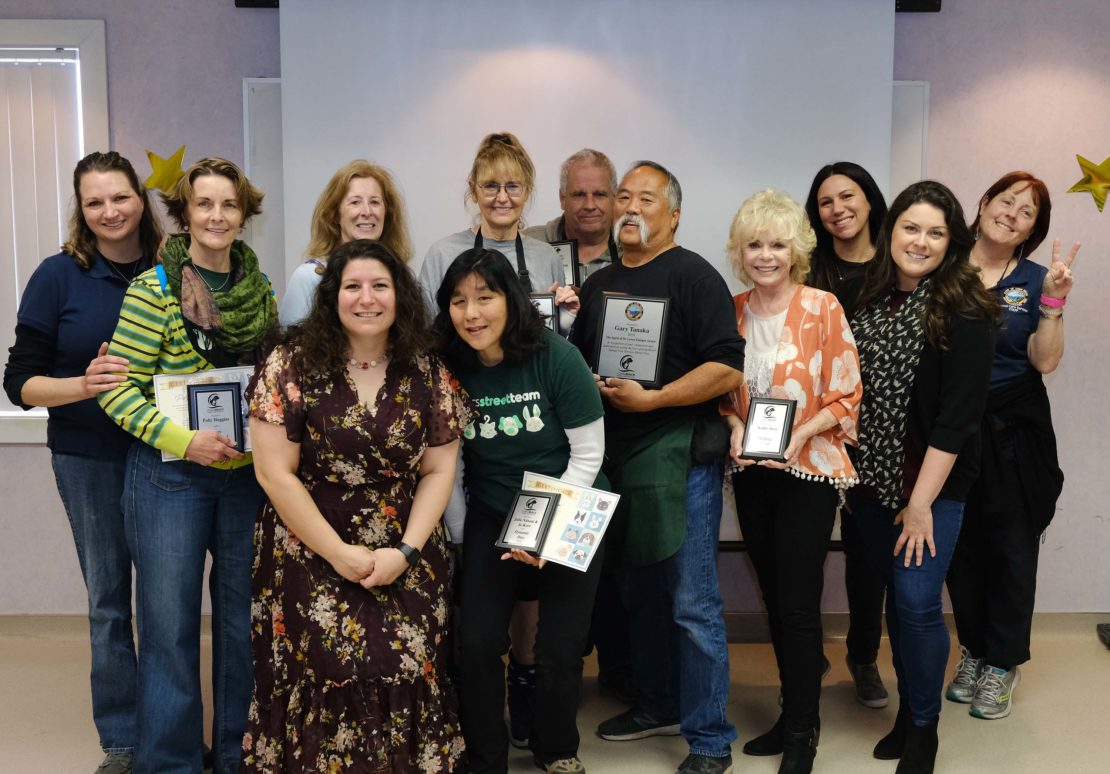 Busy season, i.e., kitten season and Foster the Fourth, is on its way, and you are so needed. Long Beach Animal Care Services animals need more kind, enthusiastic humans willing to clean kennels, walk dogs, cuddle cats and bunnies, keep an eye out for problems such as sickness, welcome visitors, give love and kindness to animals who are hurt or sick, and shed tears of sadness if one doesn't make it and even more tears of joy when one goes home or is pulled by a rescue. It's not all warm and fuzzy, and that's why people are so necessary to bolster up the pets. Please access this link to find out what volunteering involves and to fill out an application, and check these videos to see how much fun you can have! BTW, all these pets are waiting to go home.
Videos courtesy of Long Beach Animal Care Services.
https://www.facebook.com/LBAnimalCare/videos/210732203623895/
https://www.facebook.com/LBAnimalCare/videos/579947969276998/
https://www.facebook.com/LBAnimalCare/videos/998096840576926/
https://www.facebook.com/LBAnimalCare/videos/169125561197781/
"If you're seeking kindness, have few hours to care for animals, and want to feel good, please come and volunteer at Long Beach Animal Care Services," volunteer Laura Sellman said. "It's the best kind of win."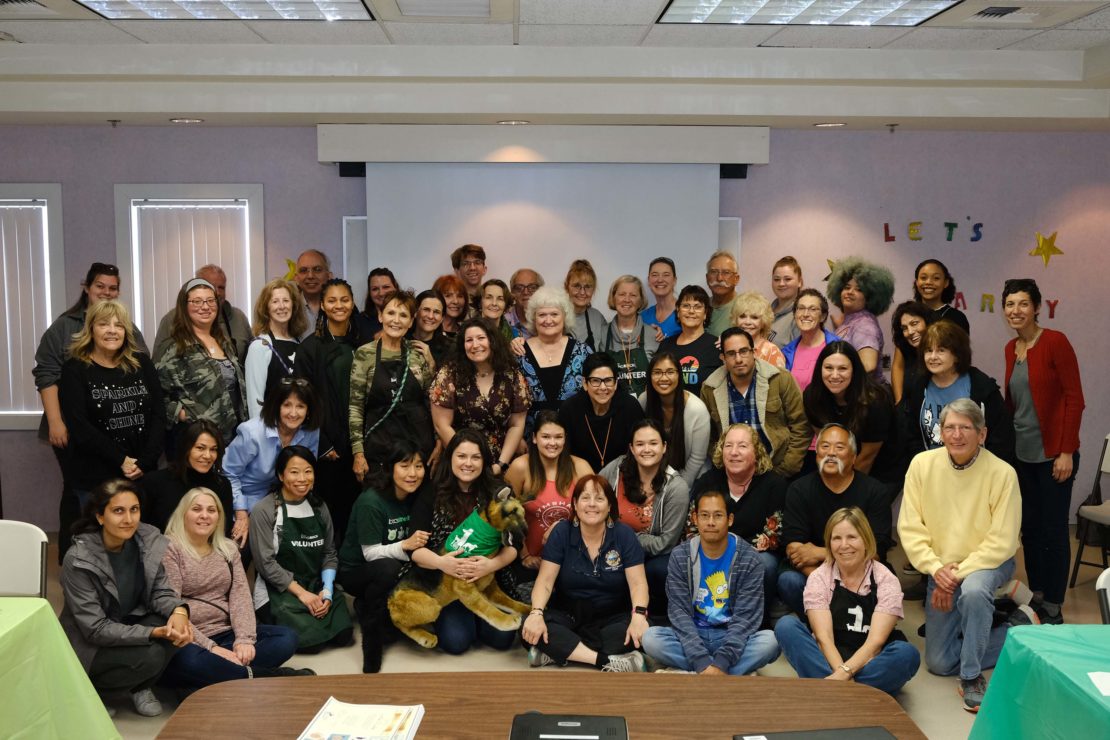 Things to do, pets to support
Please send any Long Beach or Seal Beach pet-related events or projects to [email protected]. Posting subject to approval.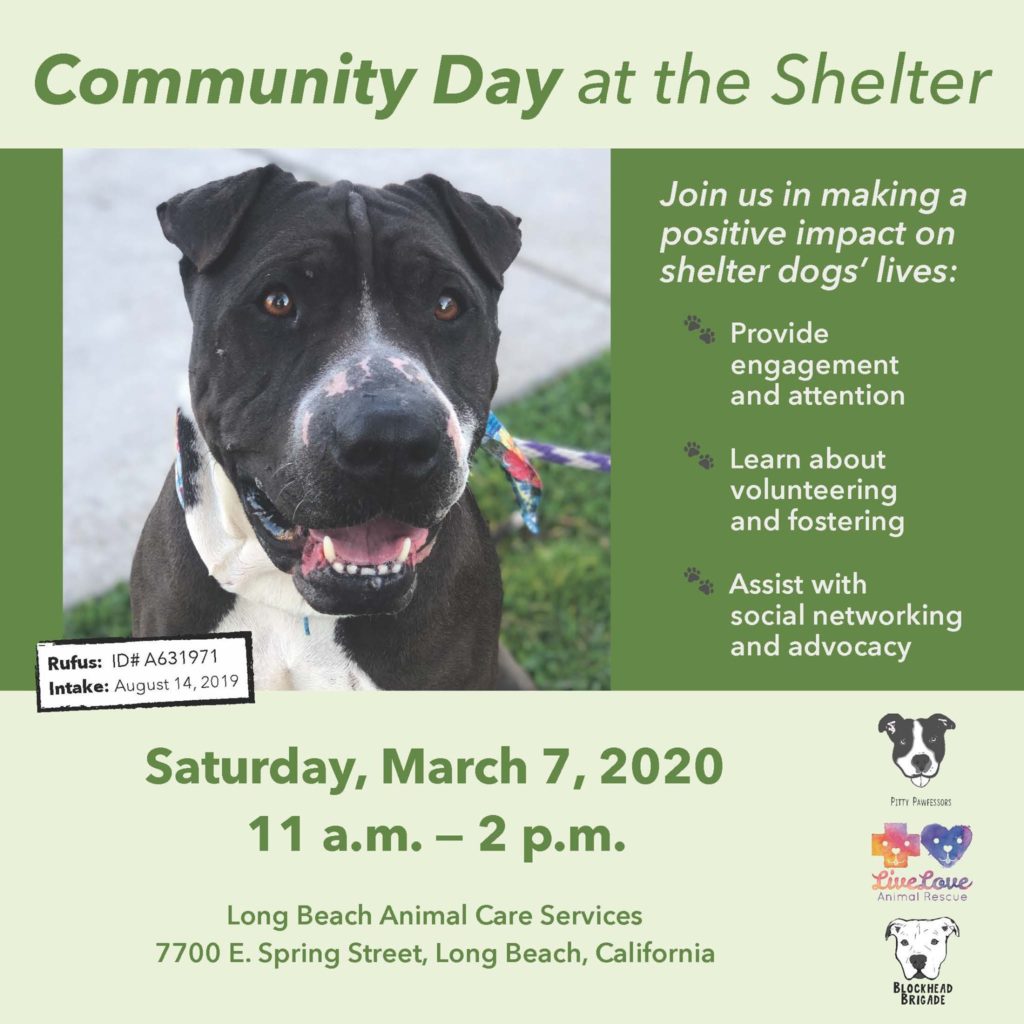 Events
Community Day at the Shelter: Saturday,  11 a.m.–2 p.m., Long Beach Animal Care Services, 7700 E. Spring St., Long Beach, free.
Live Love Long Beach invites anyone who wants to make a positive impact and outcome on shelter dogs' lives to participate in a day of learning to provide engagement, help with networking, and sharing and learning about volunteering and fostering.
Free vaccines at Hogs and Dogs event: Saturday, 10 a.m.–2 p.m., 1517 Pacific Coast Highway, Harbor City, free to first 100 pets.
Pedro Pet Pals will sponsor free vaccines to first 100 attendees: rabies and distemper/parvo for dogs and FVRCP vaccine for cats.
Fix Long Beach Free Spay/Neuter CAT!!! Clinic: Saturday, March 14, 7:30 a.m.–2 p.m., Somerset Park, 1500 E. Carson St., Long Beach, free spay/neuter appointments for qualifying people; free microchips, shots, flea-med doses, dewormers and nail trimmings $10 each.
Kitten season is on its way, and we want to help reduce the number of unborn, unwanted kittens who have a good chance of dying before they can even open their eyes. The best way to mitigate shelter euthanasia is to tamp the source, and that's why we're here. Our shelter and rescues are packed with cats and dogs, and everyone doing rescue is chasing their tail trying to get them all adopted. The best way for our community to help out is to turn off the taps at the other end so that more won't be born. Remember: it's the law to fix your pet in Long Beach, and Fix is here to help you do just that. Appointments are available for future clinics—make one at [email protected], or PM us on Facebook. More information is available here.
MOD Pizza Fundraiser for Fix Long Beach: Sunday, March 15, 10:30 a.m.–10 p.m., MOD Pizza, 4230 Long Beach Blvd., Long Beach, menu prices vary.
Have a slice, an entire pizza, a salad—any menu item and mention Fix Long Beach, and MOD will give 20% of the "pie" to the organization. Tastiest way ever to help prevent unwanted pets!
Kitten Shower: Saturday, March 21, 11 a.m.–4 p.m., Seal Beach Animal Care Center, 1700 Adolfo Lopez Drive, Seal Beach, donations requested
In forecasting another torrential deluge of newborn kittens over the next few months, Seal Beach Animal Care Center is having its own shower, of the baby kind. A bake sale, raffles and a boutique will set the scene for a shelter tour and…foster signups. A shower wouldn't be a shower without gifts, so the Seal Beach shelter is asking for monetary donations or gifties from their wish-list suggestions.
Paint & Purrs fundraiser event: Sunday, March 29, 3:30–5:30 p.m., Feline Good Social Club, 301 Atlantic Ave., Long Beach, $45, tickets available here
The cats won't be creating masterpieces, but you will. The adoptable and resident kitties will be there to help you in the same way that they do when you're trying to see the monitor. No using the tails as brushes.
CatPAWS Bowling Fundraiser: Saturday, April 25, 3–5;30 p.m., Westminster Lanes, 6471 Westminster Blvd., Westminster, tickets $40, includes shoes and lunch.
Want to show your cat that you can knock more things over than they can? Join the CatPAWS team and bowl, bid on a diversity of prizes, and in all, know that your donation will help hundreds of cats and kittens pulled from our shelter and cared for until they also hit a strike and find a forever home. Activities include bowling, refreshments, raffles and a silent auction. Tickets available here.
Shelter Shenanigans
The shelter needs volunteers, like, yesterday. Animals need socializing for adoption, doggies need baths and walkies, events need attendance and gaps need to be filled where there are more needs than humans to fill them. If you want to make a real difference, fill out an application here and attend a volunteer orientation meeting.
Have an overnight with a kitty with Foster Fridays! The shelter has kittens coming out of the walls—literally. The shelter manager constantly has a few in her office! The shelter is at capacity, especially where cats are concerned, so fosters are sorely needed. Every Friday from 2-5 p.m., shelter staff is inviting residents who have the necessary accommodations—a safe space, time to feed them and play with them, and a propensity to say "Awwww!" every 15 minutes—to take a healthy, weaned kitten home for a while. Shelter will provide food, litter and a carrier and will cover any offsite medical. Time commitment is two weeks, with an option to adopt—of course! Foster fail! Have questions? Contact the shelter director at [email protected].
Other/ongoing
Cats and Mats Yoga: Feline Good Social Club, 301 Atlantic Ave., Long Beach, every Saturday, 11 a.m.–noon and 5:30–6:30 p.m., $20 per person.
Can you side-plank on a mat? Can you do it with a cat? That's the idea at Long Beach's Feline Good Social Club, where you can have their resident kitties join you in asanas, which is really the best way! Bring a mat and wear comfy clothes that you don't mind getting fur on. For ages 10 and up. Schedule available here. Reservations are recommended and may be made on the events page.
Instructional Pack Walk: First Saturday of the month, 10–11 a.m., Bixby Park, 130 Cherry Ave., Long Beach, free, donations accepted.
The public is invited to take part in a walk sponsored by Trot's Dog Walking and Training that will help you and your best buddy learn proper leash manners and focus on each other instead of the distractions of the "real world." Trot's experienced pack leaders are there to guide you through the process. Meet at the park at the corner of Ocean Boulevard and Junipero Avenue at 10 a.m.
Donations accepted for Pets of the Homeless
Pets of the Homeless' home page gives a self-description as the only organization focusing only on providing food and care for pets belonging to homeless people. Businesses and other organizations across the country receive in-kind donations of food and other needs that the dogs' and cats' human families can pick up at outreach locations. The following Long Beach businesses will accept your donations:
Trendi Pawz, 3726 E. Seventh St., Long Beach.
Belmont Heights Animal Hospital, 255 Redondo Ave., Long Beach.
Paw Shoppe Pet Center, Inc., 6416 E. Spring St., Long Beach.
Food and supplies are available at Beacon for Him Ministries, 1535 Gundry Ave. Long Beach, Mondays from 9 a.m. to noon and Saturdays from noon to 3:00 p.m.; and at Christian Outreach in Action, 515 E. Thirrd St., Long Beach, Thursday from 9 to 11 a.m. Donations will be gratefully accepted at these locations as well.
Adopt, adopt, adopt
The following pet-related businesses regularly feature cat, dog and rabbit adoptions. If you're a Long Beach-area rescue and don't see your adoption event listed here, please email [email protected]. Click on the links for each rescue in case of updates or changes.
Chase Bank, 5200 E. Second St., Long Beach.
The Farmer's Marketplace of Long Beach, 5000 E. Spring St. (Spring and Clark), Long Beach
Gelson's Market, 6255 E. Second St.
Kahoots Pet Store, 18681 Main St. #102, Huntington Beach.
Pet Food Express, 4220 Long Beach Blvd., Long Beach:
PetSmart Cerritos, 12741 Towne Center Drive, Cerritos
PetSmart Compton, 1775 South Alameda St., Compton
PetSmart Garden Grove, 9835 Chapman Ave, Garden Grove
PetSmart, Long Beach Exchange, 3871 N Lakewood Blvd., Long Beach
PetSmart Seal Beach, 12341 Seal Beach Blvd., Seal Beach
PetSmart Signal Hill, 2550 Cherry Ave., Signal Hill
PetSmart Towne Center, 7631 Carson St., Long Beach
Unleashed by Petco, 600 Redondo Ave.