Your weekend is planned! Adopt a pet during PetSmart Charities' National Adoption Weekend
PetSmart Charities, the eleemosynary (I do love spelling out that word) arm of PetSmart stores, is hosting its first National Adoption Weekend of the year. From Feb. 28 to March 1, every PetSmart across the United States and Canada will show off cats, dogs, bunnies, pocket pets and maybe a bearded dragon or two from local rescues and shelters. Yes, the stores will be glad to sell you everything you need to make your pet healthy and happy, but what a neat way to do business.
The Scratching Post, of course, believes that every weekend—heck, every day—should be devoted to adopting pets. But since just about every rescue in town and its immediate hinterlands will be at one PetSmart or other on this particular weekend, I thought it would be a good opportunity to introduce a few rescues at one sitting and spotlight a furry buddy from each of them. Of course, this isn't an exhaustive sampling—just a ploy to convince you to pop down to the PetSmart, have a gander (no, there probably won't be any of them, or geese of any sort) at the furries, and take one or more home. This is, after all, National Adoption Weekend.
To locate a PetSmart near you, even if you're in Medicine Hat, Alberta, CN, access this link.
Helen Sanders CatPAWS, a partner of the Long Beach Little Paws kitten nursery, takes kittens and cats from the shelter, does the whole spay/neuter-vax-med thing, and adopts them—so far, nearly one a day this year! This little sweetheart is named Thea. She's 1 or 2 years old, and she's in foster care, where she's shown herself to be funny, smart and impish. She's a former momcat—all her kittens have gone off to college and she's got empty-nest syndrome. She'd love to settle into yours.
At PetSmart, 12341 Seal Beach Blvd., Seal Beach. Click link on rescue's name for adoption information.
Stray Cat Alliance is the power behind spaying and neutering unowned cats, getting them healthy, and releasing them back where they were found, never to cover the earth with unwanted babies again. Long Beach Animal Care Services has a return-to-field partnership with Stray Cat Alliance for the return-to-field program. Sometimes, the cats they trap will turn out to be friendly and adoptable, like Stuart here. His fosters describe him as a lover, not a fighter—a professional cuddler, in fact. Stuart is a 5-year-old man seeking a nice, quiet home to call his own with lots of wet and dry food, treats and at least one loving human.
At PetSmart, 2550 Cherry Ave., Signal Hill. Contact [email protected] or [email protected] for adoption information.
Sparky and the Gang is notable for its ability to grab dogs in the worst shape you've ever seen and turn them into beauties. Olive has always been adorable—she's approximately 4 months old and is very puppyish but has learned to sit and walk nicely on a leash. She's smart and has tons of personality. Olive is good with other dogs and wants to play with all of them, no matter what they're doing. She thrives on activity and will do well in training. Olive is currently being fostered in Long Beach.
At PetSmart Saturday, Feb. 29, 12341 Seal Beach Blvd., Seal Beach. Text (562) 897-5282 for an adoption application.
Zoey's Place Cat Rescue got its name from its founder's beloved kitty. The rescue is a tribute to her memory, and many beautiful cats have found their way to a new home from there. We're sure that Aaliyah will soon be one of them. Aaliyah is a beautiful Balinese, about 10 months old, rescued from a TNR operation. She's since discovered her inner lap cat and wants to be the only source of attention.
At PetSmart, 20002 Brookhurst St., Huntington Beach. Contact [email protected] for adoption information.
Zazzy Cats Kitty Rescue is a haven for the unfortunate: the abandoned, the stray, the pregnant. Tara, aka Momma Tara, was found at a local auto repair shop where she gave birth to her three kids. She's only between 1 and 2 years old. The poor girl's feet and belly were coated with tar, and she had nowhere to go until Zazzy opened its arms to her. She's now a friendly, laid-back kitty loves a good nap in the window and who purrs if you even think in her direction. Her kittens are now pretty much cats—one got adopted, but Connor and Clyde are looking for homes. So is Momma Tara. An ideal placement would be in a home with no dogs. She'd love one or both her sons to come along as well.
At PetSmart, 12126 Lakewood Blvd., Downey. Contact [email protected] for adoption information.
Live Love Animal Rescue has been in the forefront of rescue for years and is known for its Foster the Fourth effort, now hopefully entering its fourth year. Foster the Fourth empties as many doggie kennels at the shelter as is possible through foster efforts from the community—Stephanie Rivera, our very own diversity and immigration reporter, took in a little guy she called Señor Red for quite a time—to make room for the frightened pets who come in during Independence Day, having fled in fear from fireworks. Every lonely dog is a potential rescue—Skittles, fur instance, is a 13-year-old Papillon who, despite her senior status, has a lot of energy. She loves to go for walks and play with her toys—she's crazy about her little stuffed bee! She also loves bath time and receiving strokes on her head. She is a lovely calm old lady, and even though she likes to have her space respected, she won't let you down if you earn her trust.
At PetSmart Saturday, Feb. 29, Long Beach Exchange, 3871 Lakewood Blvd., Long Beach. Enter your email address here for adoption information.
Jellicle Cats—as you know, they're small—goes hand in paw with The Cat Cove to trap, neuter and release community cats and adopt out the friendly fellows and gals. I went on a foray into the field a little while ago to help trap and learned how blinkin' hard it is, and how equally rewarding. Maggie May and her son, Tommy Pickles, were part of a trap/spay-neuter/release colony that had to be relocated because of exterminator threats! Luckily, they have adapted well to housecat life—no more street life for these two! Maggie is guesstimated to be around 10. She's lost several teeth, but that makes her smile all the more charming. Her son, Tommy, is around 6 years old. He's a total mush, and you can hear his purrs from across the room! Jellicle Cats would love to see them go to a home together—Tommy's a mommy's boy!
At PetSmart Long Beach Towne Center on Saturday from 10 a.m. to 2 p.m. and at PetSmart Long Beach Exchange, 3871 N. Lakewood Blvd., 7631 Carson Blvd., Long Beach, Long Beach from 3–5. Email [email protected] for adoption information.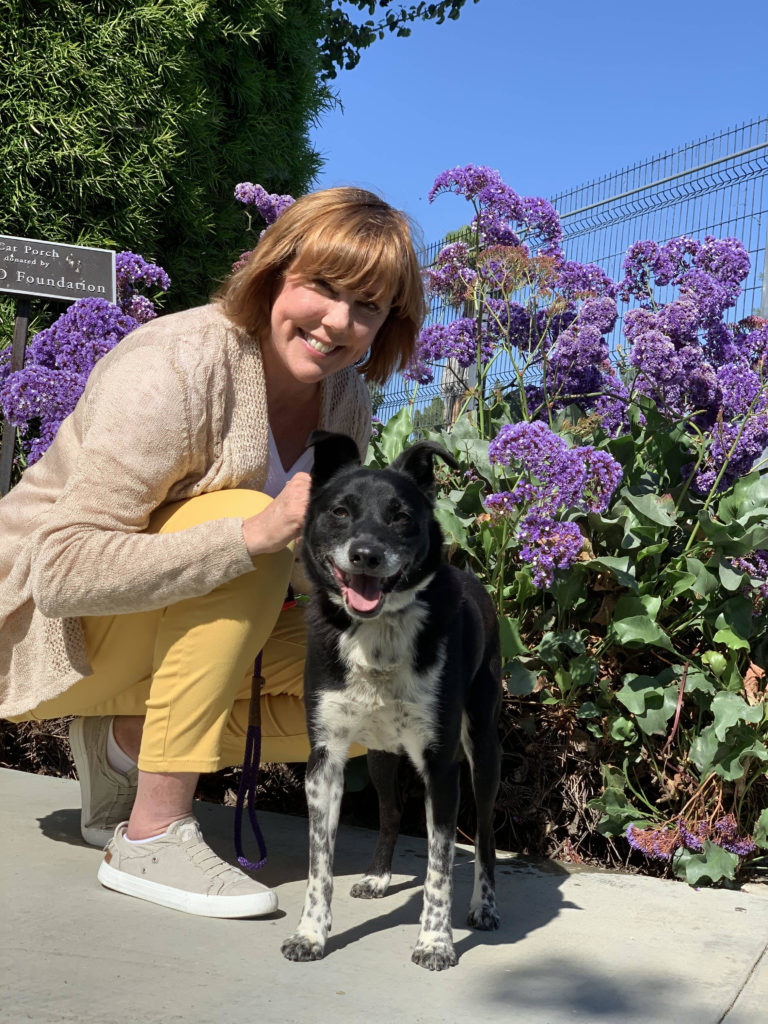 Things to do, pets to support
Please send any Long Beach or Seal Beach pet-related events or projects to [email protected]. Posting subject to approval.
Events
National Adoption Weekend: Friday, Feb. 28–Sunday, March 1, 11 a.m.–5 p.m., PetSmart stores nationally, adoption fees apply
Nearly 4,000 animal welfare organizations will bring adoptable pets—dogs, cats, rabbits, birdies—into PetSmart stores everywhere during this weekend. PetSmart will have specially trained Adoption Ambassadors on hand to answer questions, help you with all that paperwork, and offer tips on getting your new pet settled into their new home. And, of course, finding your perfect match! Find PetSmart locations here.
Free vaccines at Hogs and Dogs event: Saturday, March 7, 10 a.m.–2 p.m., 1517 Pacific Coast Highway, Harbor City, free to first 100 pets
Pedro Pet Pals will sponsor free vaccines to first 100 attendees: rabies and distemper/parvo for dogs and FVRCP vaccine for cats.
Fix Long Beach Free Spay/Neuter CAT!!! Clinic: Saturday, March 14, 7:30 a.m.–2 p.m., Somerset Park, 1500 E. Carson St., Long Beach, free spay/neuter appointments for qualifying people; free microchips, shots, flea-med doses, dewormers and nail trimmings $10 each.
Kitten season is on its way, and we want to help reduce the number of unborn, unwanted kittens who have a good chance of dying before they can even open their eyes. The best way to mitigate shelter euthanasia is to tamp the source, and that's why we're here. Our shelter and rescues are packed with cats and dogs, and everyone doing rescue is chasing their tail trying to get them all adopted. The best way for our community to help out is to turn off the taps at the other end so that more won't be born. Remember: it's the law to fix your pet in Long Beach, and Fix is here to help you do just that. Appointments are available for future clinics—make one at [email protected], or PM us on Facebook. More information is available here.
MOD Pizza Fundraiser for Fix Long Beach: Sunday, March 15, 10:30 p.m.–10 p.m., MOD Pizza, 4230 Long Beach Blvd., Long Beach, menu prices vary
Have a slice, an entire pizza, a salad—any menu item and mention Fix Long Beach, and MOD will give 20% of the "pie" to the organization. Tastiest way ever to help prevent unwanted pets!
CatPAWS Bowling Fundraiser: Saturday, April 25, 3–5:30 p.m., Westminster Lanes, 6471 Westminster Blvd., Westminster, tickets $40, includes shoes and lunch
Want to show your cat that you can knock more things over than they can? Join the CatPAWS team and bowl, bid on a diversity of prizes, and in all, know that your donation will help hundreds of cats and kittens pulled from our shelter and cared for until they also hit a strike and find a forever home. include bowling, refreshments, raffles and a silent auction. Tickets available here.
Shelter Shenanigans
The shelter needs volunteers, like, yesterday. Animals need socializing for adoption, doggies need baths and walkies, events need attendance and gaps need to be filled where there are more needs than humans to fill them. If you want to make a real difference, fill out an application here and attend a volunteer orientation meeting.
Community Day at the Shelter: Saturday, March 7, 11 a.m.–2 p.m., Long Beach Animal Care Services, 7700 E. Spring St., Long Beach, free
Live Love Long Beach invites anyone who wants to make a positive impact and outcome on shelter dogs' lives to participate in a day of learning to provide engagement, help with networking, and sharing and learning about volunteering and fostering.
Have an overnight with a kitty with Foster Fridays! The shelter has kittens coming out of the walls—literally. The shelter manager constantly has a few in her office! The shelter is at capacity, especially where cats are concerned, so fosters are sorely needed. Every Friday from 2-5 p.m., shelter staff is inviting residents who have the necessary accommodations—a safe space, time to feed them and play with them, and a propensity to say "Awwww!" every 15 minutes—to take a healthy, weaned kitten home for a while. Shelter will provide food, litter and a carrier and will cover any offsite medical. Time commitment is two weeks, with an option to adopt—of course! Foster fail! Have questions? Contact the shelter director at [email protected].
Other/ongoing
Cats and Mats Yoga: Feline Good Social Club, 301 Atlantic Ave., Long Beach, every Saturday, 11 a.m.–noon and 5:30–6:30 p.m., $20 per person
Can you side-plank on a mat? Can you do it with a cat? That's the idea at Long Beach's Feline Good Social Club, where you can have their resident kitties join you in asanas, which is really the best way! Bring a mat and wear comfy clothes that you don't mind getting fur on. For ages 10 and up. Schedule available here. Reservations are recommended and may be made on the events page.
Instructional Pack Walk: First Saturday of the month, 10–11 a.m., Bixby Park, 130 Cherry Ave., Long Beach, free, donations accepted
The public is invited to take part in a walk sponsored by Trot's Dog Walking and Training that will help you and your best buddy learn proper leash manners and focus on each other instead of the distractions of the "real world." Trot's experienced pack leaders are there to guide you through the process. Meet at the park at the corner of Ocean and Junipero at 10am.
Donations accepted for Pets of the Homeless
Pets of the Homeless' home page gives a self-description as the only organization focusing only on providing food and care for pets belonging to homeless people. Businesses and other organizations across the country receive in-kind donations of food and other needs that the dogs and cats' human families can pick up at outreach locations. The following Long Beach businesses will accept your donations:
Trendi Pawz, 3726 E. Seventh St., Long Beach
Belmont Heights Animal Hospital, 255 Redondo Ave., Long Beach
Paw Shoppe Pet Center, Inc., 6416 E. Spring St., Long Beach
Food and supplies are available at Beacon for Him Ministries, 1535 Gundry Ave. Long Beach, Mondays from 9:00 a.m. to noon and Saturdays from noon to 3 p.m.; and at Christian Outreach in Action, 515 E. Third St., Long Beach, Thursday from 9 to 11 a.m. Donations will be gratefully accepted at these locations as well.
Adopt, adopt, adopt
The following pet-related businesses regularly feature cat, dog and rabbit adoptions. If you're a Long Beach-area rescue and don't see your adoption event listed here, please email [email protected]. Click on the links for each rescue in case of updates or changes.
Chase Bank, 5200 E. Second St., Long Beach
The Farmer's Marketplace of Long Beach, 5000 E. Spring St. (Spring and Clark), Long Beach
Gelson's Market, 6255 E. Second St.
Kahoots Pet Store, 18681 Main St. #102, Huntington Beach
Pet Food Express, 4220 Long Beach Blvd., Long Beach:
PetSmart Cerritos, 12741 Towne Center Drive, Cerritos
PetSmart Compton, 1775 S. Alameda St., Compton
PetSmart Garden Grove, 9835 Chapman Ave., Garden Grove
PetSmart, Long Beach Exchange, 3871 N Lakewood Blvd., Long Beach
PetSmart Seal Beach, 12341 Seal Beach Blvd., Seal Beach.
PetSmart Signal Hill, 2550 Cherry Ave., Signal Hill
PetSmart Towne Center, 7631 Carson Blvd., Long Beach
Unleashed by Petco, 600 Redondo Ave.
Support our journalism.
Hyperlocal news is an essential force in our democracy, but it costs money to keep an organization like this one alive, and we can't rely on advertiser support alone. That's why we're asking readers like you to support our independent, fact-based journalism. We know you like it—that's why you're here. Help us keep hyperlocal news alive in Long Beach.