Long Beach this weekend is hosting some 5,000 Democratic delegates, activists, media and others for the party's endorsing convention, which lasts through Sunday. The Long Beach Post will be providing live updates throughout the weekend.
Candidates square off at Univision forum
5:15 p.m. | Eight Democratic presidential candidates answered questions posed at a forum in the Long Beach Arena hosted by Univision. The event started with some audio problems, but got underway shortly after 4 p.m.
In the so-called "spin room," some candidates answered questions from reporters:
Cory Booker said he will take to the streets and protest if the Supreme Court kills DACA: "When I'm your president, I will make sure every DACA student and their families will have a path to citizenship."
Media surrounded Kamala Harris following her turn on stage: "Justice is on the bill for 2020," she said.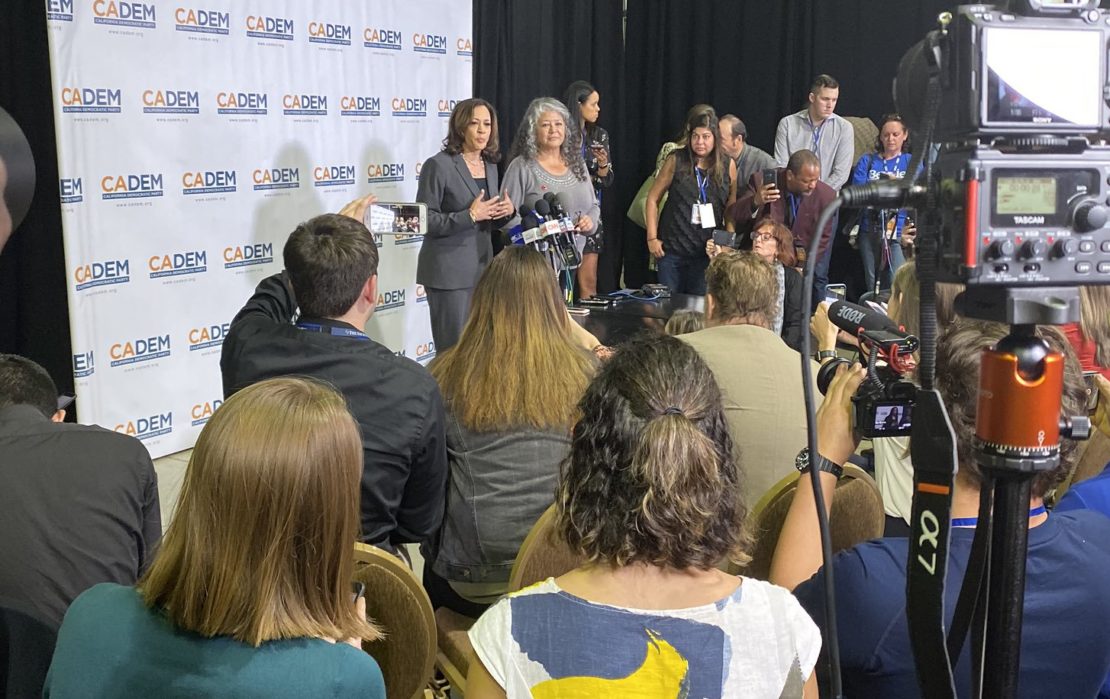 Mayor Pete Buttigieg said the U.S. should ban the sale of assault weapons and high capacity magazines. "The things I trained on in the military have no business being in the community."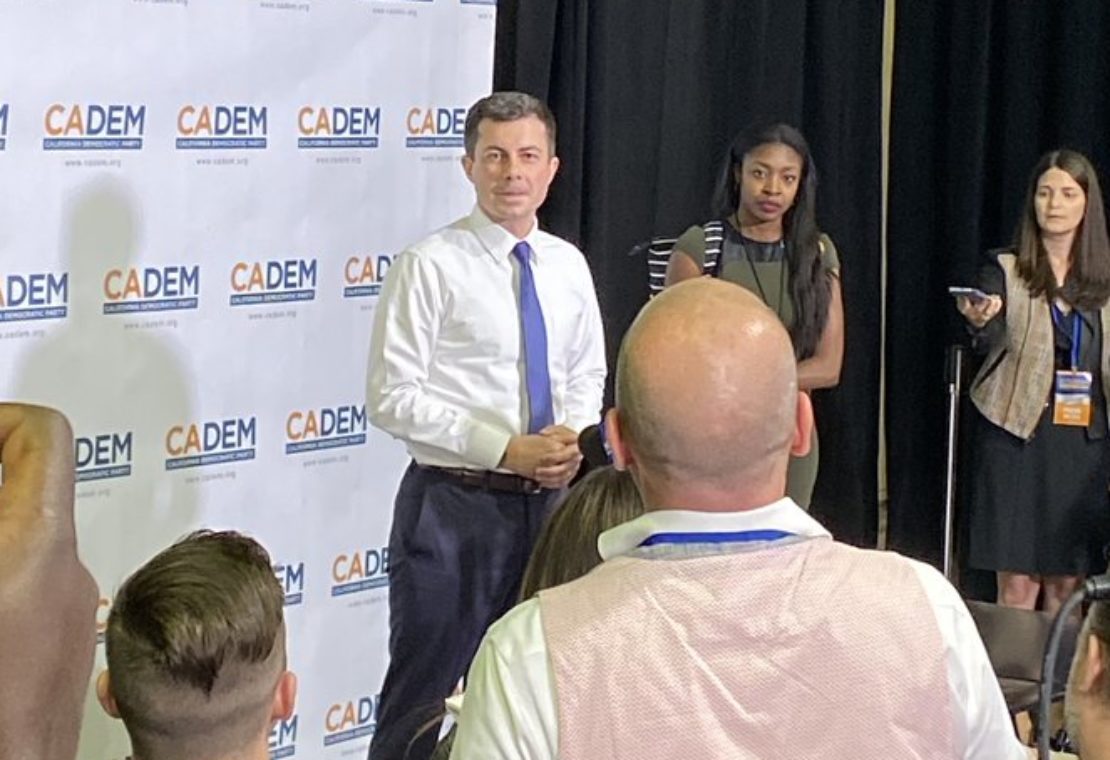 Presidential candidate Julian Castro said he hopes more Latinos will get involved in politics. "We need you. We need more people running for office. Latinos reflect the present and future of California."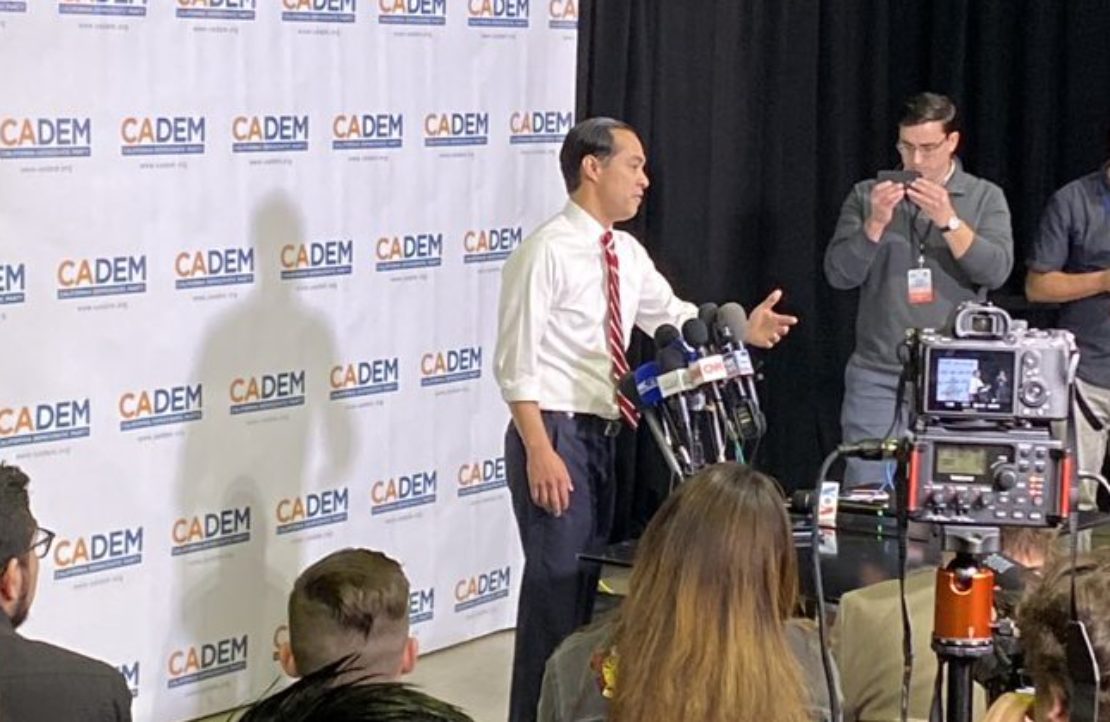 — Kelly Puente
Mayor Robert Garcia opens general session
Skirmish erupts with Trump supporters protesting outside
11:24 a.m. | Roughly a dozen or so supporters of President Donald Trump gathered with bullhorns and signs outside the Long Beach Convention Center Saturday, chanting "Four more years!"
Some convention attendees engaged with the group; other strolled by with curiosity, disdain—or a mixture of both.
The gathering also prompted a skirmish Saturday along Ocean Boulevard that was quickly broken up by Long Beach police.
According to witnesses, two men approached the Trump supporters and they all started arguing. It's unclear who initiated the physical fight, but at one point, one of the anti-Trump protesters hit the fighting Trump supporter in the face with a manual scooter.
"It happened really fast," said Raul Rodriguez Jr., who was holding a sign in support of Trump's reelection.
According to Rodriguez, the two men started "harassing" him and the other Trump supporters. Rodriguez said he turned on his bullhorn siren and put it in the other man's face and the man grabbed it. The man "took a swing" at him and another Trump supporter started defending Rodriguez.
One witness, Brandon Recor, got covered in blood when he said he jumped in to pull the three men off each other. He said the two anti-Trump supporters initiated the fight. Recor runs a self-named independent conservative Youtube channel called "That's the Point."
Police arrested the three men involved in the fight on suspicion of assault with a deadly weapon that is not a firearm, police spokeswoman Arantxa Chavarria said. Two of the suspects were taken to a local hospital for lacerations, she said.
The victim is being treated by paramedics now. I see at least one person being put in handcuffs.

— Valerie Osier (@ValerieOsier) November 16, 2019
Trump supporters clash with anti Trump supporters in a bloody brawl on Ocean Blvd at these the #CADEM2019 pic.twitter.com/nOUZAkIBpv

— Stephen Carr (@Carrphotos) November 16, 2019
Trump supporters gathering outside the #cadem2019 in front of the Long Beach Convention Center. Go to @LongBeachPost for full coverage pic.twitter.com/anvc1oOV38

— Stephen Carr (@Carrphotos) November 16, 2019
At around 11:25AM we responded to the area of Pine/Ocean for reports of a fight. 3 suspects in custody. #LBPD is committed to ensuring everyone's 1st Amendment rights, but we also want to remind you that any violence of any kind will not be tolerated in our community.

— Long Beach PD (CA) (@LBPD) November 16, 2019
— Valerie Osier 
Rep. Adam Schiff receives standing ovation
10:59 a.m. | House Intelligence Committee Chairman Adam Schiff, D-Burbank, who is leading the impeachment inquiries against Trump, was a surprise guest at the conference. The room gave him a standing ovation as he walked to the podium.
"You'll forgive me if I seem exhausted, it's been an eventful week," he joked.
Schiff said our country's democracy is "at risk more so now than any time in our life." And the most profound threat, he said, comes not from Russia or China, but from within, from a president with "no moral compass."
Schiff said it's voters who will ultimately send Trump "back to the golden throne he came from" in 2020.
Rep. Alan Lowenthal, D-Long Beach, also spoke at the event and didn't hold back on his criticism of the president: "Trump has violated the law, he's abused his power and he has shredded our constitutional values. It's the duty of the House of Representatives to hold him accountable."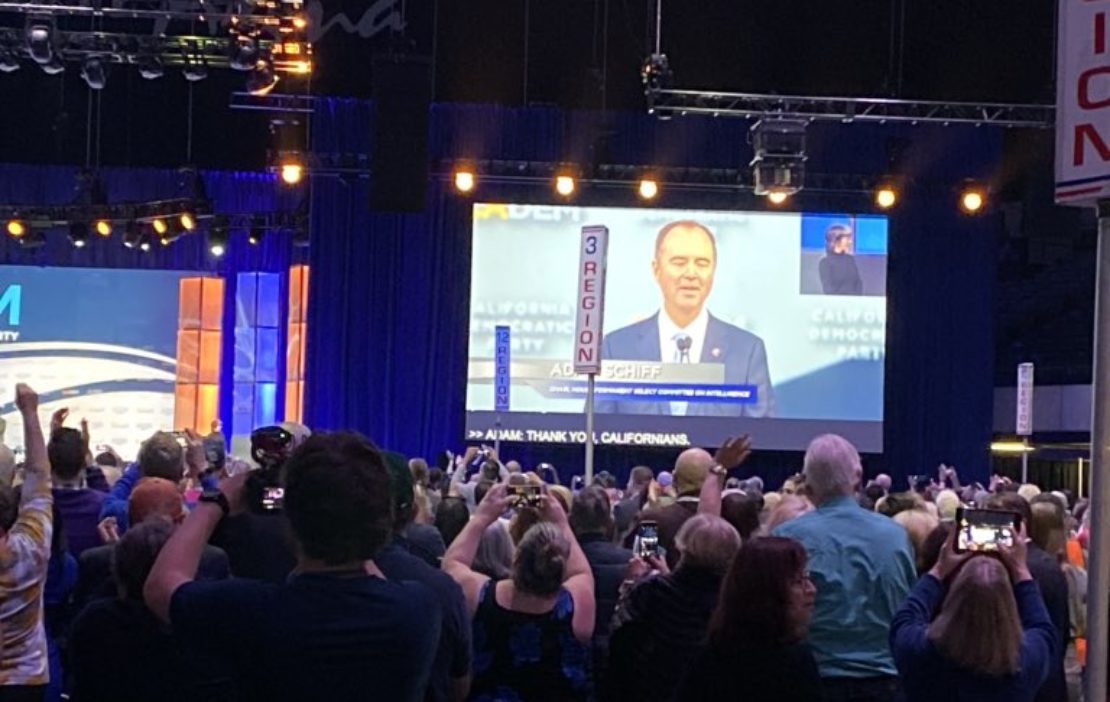 — Kelly Puente
'We support all people': Long Beach mayor speaks at general session
9:37 a.m. | Ten years ago, Long Beach was much more conservative place. But today, the city is a champion for social and economic justice, LGBTQ rights, environmental protections and more.
Those were the words of Mayor Robert Garcia as he touted the city to thousands of people in the Long Beach Area on Saturday for the third day of the California Democratic Party Endorsing Convention.
Long Beach for the first time is hosting the four-day event, which is expected to draw more than 5,000 delegates, guests and observers.
Garcia said the city was able to host the event this year because it finally had enough union-designated hotels.
"In Long Beach, we support all people," he said.
Long Beach Mayor Garcia enters to Nate Dogg and Warren G's "Regulate" and CDP chairman Rusty Hicks enters to Tupac and Dre's "California Love." Really liking this music mix. pic.twitter.com/a4OiMSM7y0

— Seema (@LATSeema) November 16, 2019
State Democratic Chair Rusty Hicks, speaking to the crowd, reiterated the party main goal—defeating President Donald Trump in 2020.
"America is calling on us to help save our democracy," he said.
Saturday's schedule will feature a nationally televised forum with eight of the Democratic presidential contenders, including Sen. Bernie Sanders, Sen. Kamala Harris and Mayor Pete Buttigieg.
— Kelly Puente
Democrats in rural areas sound off on Pacific Gas & Electric
8:41 a.m. Saturday | Much was made about the "Forgotten American" in the 2016 presidential campaign, and the rural California Democrats are determined not to make that mistake again.
The caucus met Friday night, and much of the conversation focused on being noticed. There is little cell service in rural California, broadband internet is so hard to come by that they fear the first national census conducted via internet could actually be a disadvantage for rural counties trying to ensure their populations are accurately counted.
They just want to be noticed, whether it be by the federal government or by their fellow Californians.
"Sharing our message and telling them why they should invest in Northern California is important," said Elizabeth Betancourt, who recently ran to represent the state's 1st Assembly district. "We need to have unity with other sister-counties to help ensure that we're recognized for the value that we bring to this state."
As in other caucus meetings Friday night, Pacific Gas & Electric was not a popular entity among the delegates and attendees.
The utility provider has been accused of sparking off a number of wildfires which in recent months has led it to proactively cutoff power to customers in rural Northern California counties.
At one point, a caucus member gave a presentation on the utility provider's history of mishaps in the dark, with only a flashlight in his hand to illuminate his speech.
There's a presentation being given on the PG&E power shut offs. pic.twitter.com/11683I8XCr

— Jason Ruiz 🐀 (@JasonRuiz_LB) November 16, 2019
State Sen. Mike Maguire, who represents California's northernmost corner, offered to put out a swear-jar before he launched into his speech which also focused on the utility provider which he referred to as a "third-world" provider.
Whether it was emergency alert system or get-out-the-vote styled efforts to encourage participation in the census the caucus was laser-focused on how to improve its digital and people-powered infrastructure to improve quality of life, but also to improve the party's foothold in counties in the state that have historically been Republican strongholds.
— Jason Ruiz
Chicano Latino caucus draws leading politicos
9:10 p.m. | The Chicano Latino Caucus was like any typical Latino party (minus the alcohol and music). It started late, everyone switched between Spanish and English and there was a lot of shouting and laughing.
It was arguably one of the caucuses for politicos to speak at as well.
The meeting began with legendary labor organizer Dolores Huerta who touched on various subjects, including the importance of the U.S. Census next year. DNC Chair Rusty Hicks even made an appearance and highlighted the importance of Latinos in the state and nationwide.
The caucus meeting continued with multiple candidates from up and down the state who gave their speeches, hoping that it would lead to support or endorsements from the crowd and caucus members.
Presidential candidate Tom Steyer touted his progressive views and spoke about his longtime support for and work in the Latino community while many in the crowd held Bernie Sanders signs. The crowd also heard from local elected leaders like Reps. Nanette Barragan and Linda Sanchez.
Assemblywoman Lorena Gonzalez urged attendees to support an ethnic studies bill that would focus on African American, Asian American, Asian Pacific Islander and Latino communities. "It's about the institutional and overt racism our groups have experienced since the beginning," Gonzalez said.
LA Mayor Eric Garcetti even answered a question about possibly the biggest issue affecting his city right now: homelessness. He told the crowd that there needs to be more housing and help to keep people in their homes amid rent hikes. He urged people to support the creation of new housing projects when the issue comes up in their city.
Nearly two hours later the chaos subsided with a final announcement of where the after party would be.
Rep. Nannette Barragon is now talking about the importance of representation in Congress. About what she is doing in DC and thanking those in the frontlines. pic.twitter.com/HFJhxYxyRf

— Stephanie Rivera (@StephRivera88) November 16, 2019
—Stephanie Rivera
An overview of Day 1 of the Democratic convention
Irish caucus talks Brexit, the economy—and family histories
7:09 p.m. | Five minutes before the Irish Caucus was set to begin doing its business, a smattering of people sat in the audience—smattering being a heftier way to describe the half-dozen people sitting, which sounds more than the six who waited for things to get started, invited several times by Vice Chair Mary Ellen Early to partake of her homemade Irish soda bread.
The assembled swelled to near double digits—nine—when the meeting was called to order by Chair Thomas Patrick O'Shaughnessy, who couldn't have a more Irish sounding name but actually sounded as Irish when he spoke as some dude ordering the Dubliner Quesadillas (that's a thing) at Bennigans.
Still, it was clear from the moment that O'Shaughnessy refused to refer to Northern Ireland as such, choosing to call it "the six northern counties," clear when he noted that the greatest writers and playwrights are Irish and that James Joyce's "Ulysses" is regularly ranked as the greatest novel ever written, that he was Irish to the core. As was everyone else in the room, which explained why one of the first items discussed was how one could apply for dual citizenship.
Oh, there was some talk of climate change and someone got up to ask people to sign a petition regarding education—Early suggested placing her soda bread by the petition to entice people forward—but the main focus was in fact on Ireland: it's economy, how it's dealing with Brexit, how it's opening a second consulate in California.
But, mostly, it was an opportunity for everyone to tell Ireland travel stories, relate their Ancestry.com experiences and announce to the assembled where their "people" were from. Amid the recitations of County Cork and Tipperary, Josh Teincuff, sporting a "Make America Green Again" got up to leave, not because he wasn't enjoying himself, but because there were other caucuses he wanted to see.
"It was nice," he said of the caucus. "A little more low key than the others. It was nice."
Back in the caucus, while someone related that they belonged to "the biggest Irish county there is: Cook County (Chicago)," Los Angeles Mayor Eric Garcetti suddenly showed up, striding on a smile through the assembled. Garcetti was honored as the Honorary Irishmen of the Year by what he called "this small, strong and mighty" group and immediately showed he knew what the group was all about by relating his own Ancestry.com experiences.
He talked about making this "blue state bluer" and of flipping the Senate, then took a picture with the caucus leadership and reacted when someone said that California was the second biggest consumer of Irish whiskey by saying, "Let's go for number one, we can do this!" (The number one consumer of Irish whiskey is the United States.) Early quickly ran to fetch some of her soda bread for the mayor.
And then he strode back out, Lt. Gov. Eleni Kounalakis trailing in his wake. When the detail for the two elected officials had all filed out, the room was smaller by half and the half that was left went back to the business of relating their family histories.
It was nice.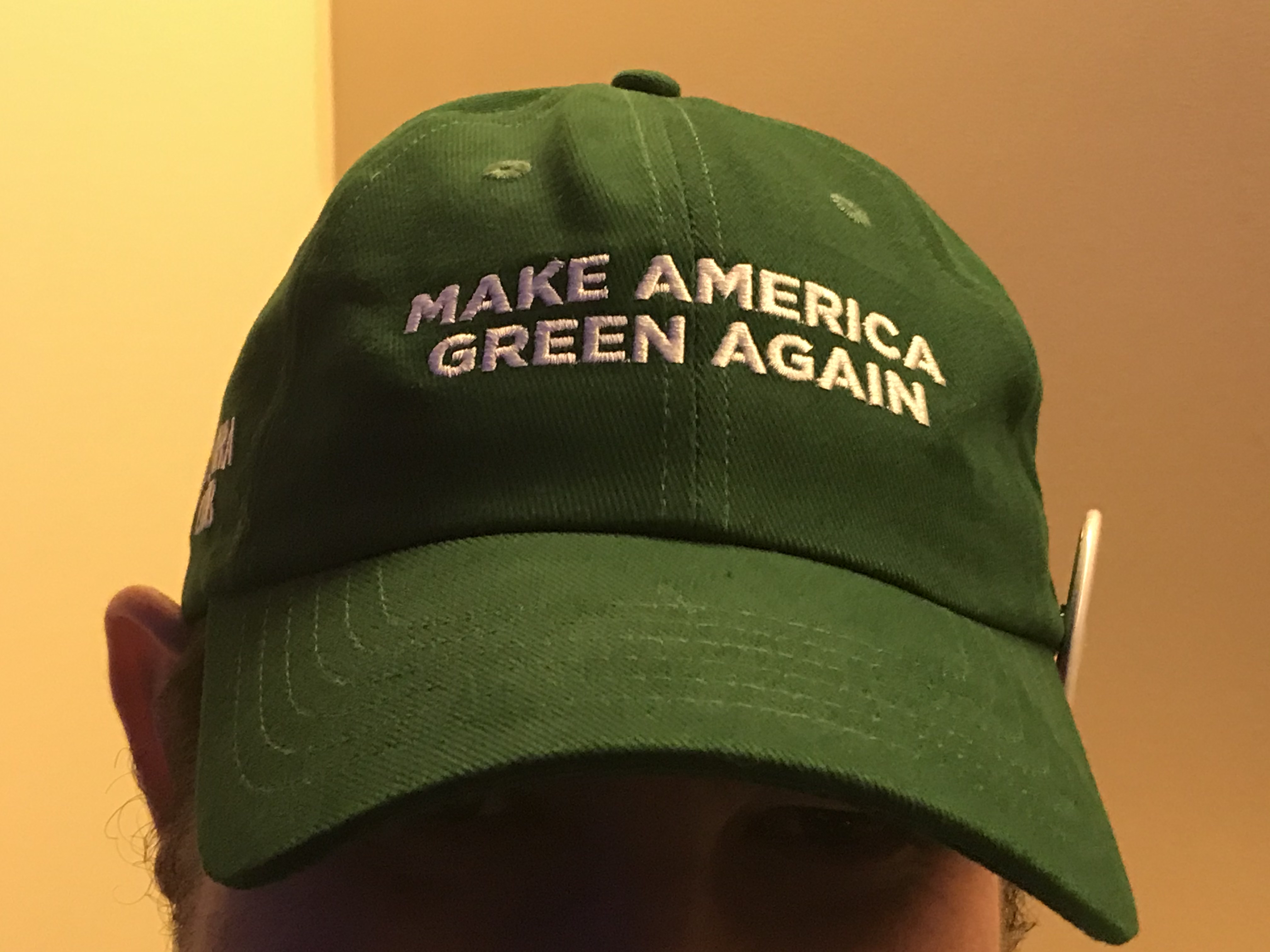 — Steve Lowery
Standing room only at environmental caucus gathering
6:02 p.m. | Among the few hundred that packed the environmental caucus room at the Long Beach Convention Center, there was the expected messaging from one of the Democratic Party's more liberal wings.
There were calls for the end of the fossil fuel industry, the abolition of internal combustion engines by 2030 and a public takeover of public utilities.
Candidates for state office and some current elected officials took turns at the mic either pledging to not take fossil fuel money during their campaigns, and in the case of Assemblywoman Eloise Gomez-Reyes, sharing that it's possible to beat "oily Democrats" who are backed by the fossil fuel industry.
"You have to hold us to account," Gomez Reyes said. "And if we do the wrong thing you have to tell us 'We will Reyes you."
She was referring to her unseating of incumbent Assemblywoman Cheryl Brown in 2016. Brown had received $1 million from Chevron by way of an independent expenditure.
RL Miller, the political director of Climate Hawks Vote, who oversaw the caucus and panel discussion that focused on the recent fire and power outage issues with state utility companies, said that the caucus needed to push for Gov. Gavin Newsom to pursue a publicly-owned utility option.
Miller said she feared the way forward would likely be business as usual with PG&E and other utilities found at fault for starting massive wild fires facing little to no consequences.The room erupted in an emphatic "Hell no."
It's standing room only. Good thing I hate sitting. pic.twitter.com/3uLFA9cE8G

— Jason Ruiz 🐀 (@JasonRuiz_LB) November 16, 2019
—Jason Ruiz
'Our No. 1 priority is to remove Donald Trump from the White House'
3:37 p.m. | California Democratic Chairman Rusty Hicks held a media briefing Friday afternoon, telling those in attendance that California is the perfect place to showcase the party's presidential candidates.
"There's no part of our country that can't be found in some part of California," said Hicks, former head of the Los Angeles County Federation of Labor.
Hicks said the party's No. 1 priority is to remove Donald Trump from the White House.
— Kelly Puente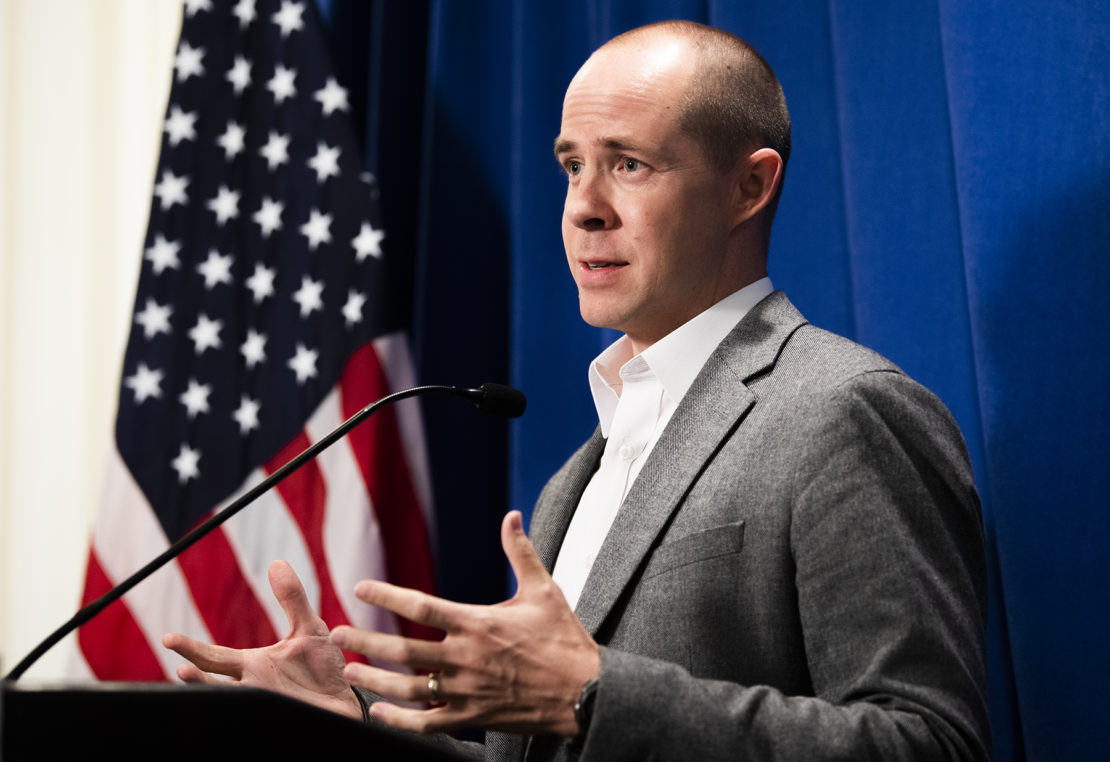 Protesters gather to tout their cause
2:40 p.m. | Women dressed in white made their way down Pine Avenue carrying signs addressed directly to President Donald Trump: "How long must women wait for liberty."
The protest—a tradition at political conventions—touted the 100th anniversary of women's suffrage.
Here at the Democratic Convention in Long Beach were LB Suffrage 100 is honoring the anniversary of women's voting rights. They're also sending a message to Trump. "Mr. President you're on high alert. We want women's rights and we want them now." – Zoe Nicholson @LongBeachPost pic.twitter.com/X1ihTzLyBa

— Kelly Puente (@KellyPuenteTN) November 15, 2019
— Kelly Puente
Gun rally today in wake of Saugus shooting
10:21 a.m. | A timely rally for gun safety will be held on the steps of the Long Beach Convention Center near Pine Avenue today in connection with the start of a three-day Democratic gathering that will draw thousands to the city.
The rally—which will include, among many other legislators from across the state, Mayor Robert Garcia and Speaker Anthony Rendon, D-Lakewood—comes a day after a shooting at a high school in Saugus in which two students were killed and three others injured.
The "Rally for Gun Safety" will include a call to action by dozens of politicians and those directly affected by gun violence.
The event will be held at 6:30 p.m. today.
Congress needs to pass comprehensive gun reform legislation. We need universal background checks and we have too many guns on the street including here in Long Beach. When will enough be enough? The Senate and the administration need to act and stop listening to the NRA.

— Robert Garcia (@RobertGarcia) November 15, 2019
— Melissa Evans
Biden snubs Long Beach while fundraising in L.A.
The highlight of this weekend's Democrat convention in Long Beach is a forum Saturday evening featuring the party's presidential contenders. Missing from the list of those participating is one of the frontrunners: former Vice President Joe Biden, who notified the party in October that he would not be participating.
State party Chairman Rusty Hicks did not take the news well—he urged Biden and Elizabeth Warren to reconsider their "misguided" decision on social media—and it's likely that Biden's absence is all the more infuriating for party leaders considering he is in Los Angeles this week.
1/ When @JoeBiden & @EWarren decide to skip the @CA_DEM/@UniNoticias Presidential Forum, the only thing to say is…

I respect your work/candidacy, BUT… you should reconsider your misguided decision to publicly snub California's Democrats & Latino Voters across the nation.

— Rusty Hicks 🇺🇸 (@rustyhicks) November 6, 2019
Biden spoke Thursday at the Los Angeles Trade-Technical College before attending two fundraisers in West Los Angeles and Pacific Palisades. Biden was last in the Los Angeles-area when he attended a trio of fundraisers and spoke at a "Power of Pride" forum focusing on issues affecting the lesbian, gay, bisexual, transgender and questioning communities.
— Staff and wire report