The Backroom is a column by the staff of the Long Beach Post with notes and analysis, along with bloops and blunders, from the city's political scene. It runs every Thursday. To contact us, email [email protected]. For questions or concerns, please contact Managing Editor Melissa Evans: [email protected] or 562-437-5814. 
Sometimes we suffer younger-sibling syndrome in Long Beach. We sometimes think of ourselves as the kid brother trying to tag along with our big sister, that angelic city just to our north. But we deserve a seat at the grown-up table. We are a big city! Doing great things!
Shrugging off that perception was on The Backroom's mind earlier this week.
It was a momentous occasion in Long Beach on Monday night: a public celebration to mark the opening of our new Civic Center complex, a billion-dollar-plus revitalization of the entire heart of Downtown.
We should have suspected there was something churning in the waters as soon as The Backroom spotted activist-turned-City Council candidate Robert Fox audaciously taking a seat in the front row, in chairs reserved for dignitaries. Bold move.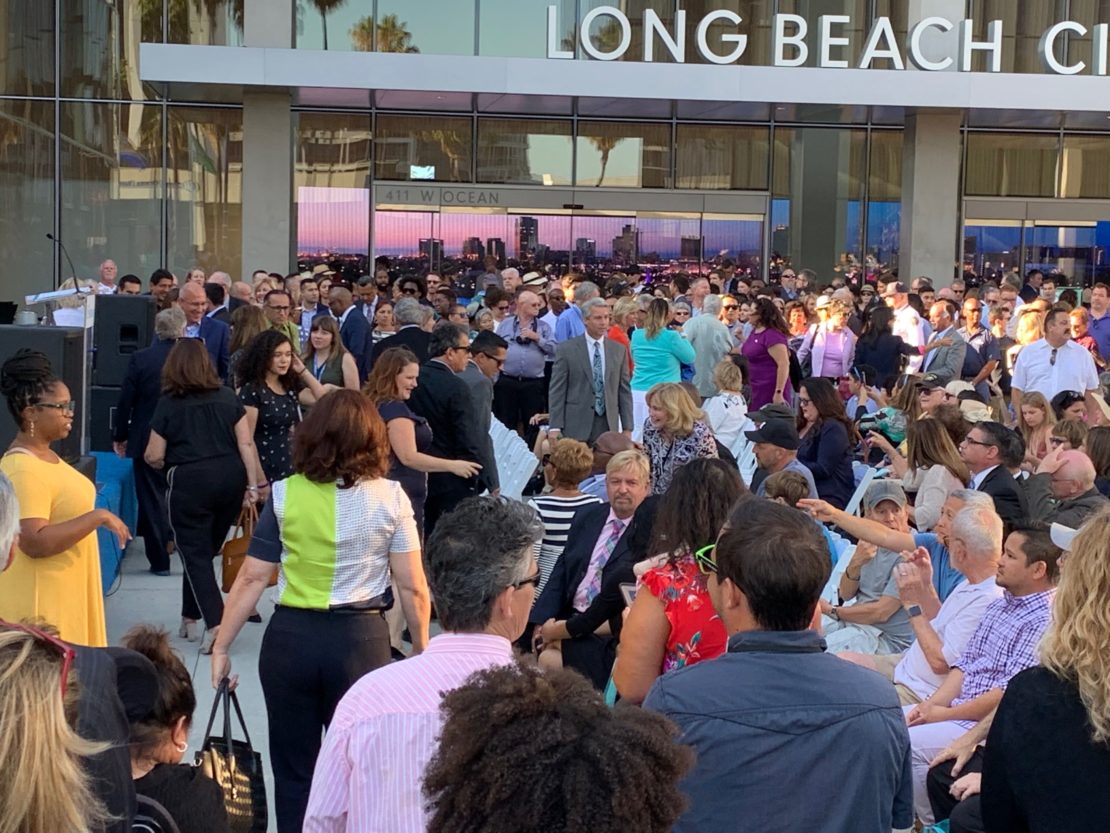 Then we spotted City Hall gadfly Larry Goodhue, who professes weekly that the mayor's indictment for unspecified crimes is forthcoming, shuffling toward the mayor on stage. He was intercepted mid-stride by Assistant City Manager Tom Modica, who we're guessing was behind the tight security at City Hall to keep Goodhue off the 10th Floor.
The inevitable series of showtunes singers kicked off the event, with one doing a little speechifying between verses. He should have stuck to singing. Remarking on this being a momentous day for, "raising up the entire community of Los An…, uh, Long Beach."
Oof.
Please join us and the crowd as we let out a collective groan.
But then the audio. Minutes after Mayor Robert Garcia started his remarks, the audio throughout the plaza cut out. Then again. And again. And, agonizingly, again and again.
To the rescue, eventually, came the AV guys lumbering around like they were being paid by the hour. One sound man sauntered up like he had hit the wall in the last 100 feet of a marathon.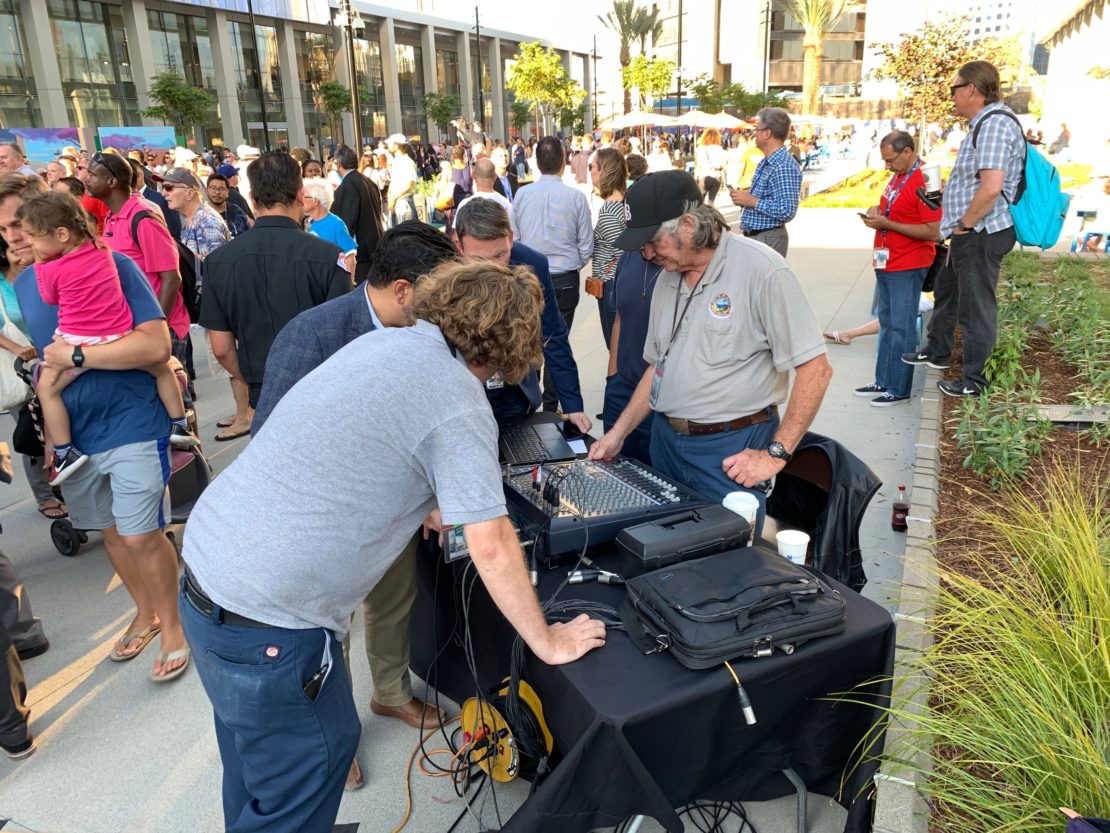 We genuinely felt bad for Garcia; this was his big moment—cut off by a fried audio board and an apparent absence of any Plan B short of shouting.
So that's how the mayor pressed on, hollering into the plaza. We did note a couple things at the ceremony. Mayor Garcia has a hell of a projecting voice and the acoustics of the cavernous Civic Center plaza are exceptional.
Still, in all, a good night for Long Beach. Our seat at the grown-ups table is reserved.
Mayor in a box 
👋🏽👋🏽👋🏽 pic.twitter.com/eKtyhWDnDt

— Robert Garcia (@RobertGarcia) July 26, 2019
Have you ever stopped and wondered what kind of stuff you'd have if you were mayor? Probably not, but we have. It's what The Backroom is paid to wonder.
When City Manager Pat West and Mayor Garcia left the old City Hall for the last time on Friday, hizzonor was carrying a box that had "Mayor Stuff" written on it with a Sharpie. Poking out of the top of the box was his name plate, which all mayors in the nation are issued on the first day.
We called Garcia on Wednesday to ask him what else is included in the box of mayor stuff. Turns out he hadn't unpacked it yet, but he took the time to do so while we were on the horn.
"OK, I've got a bag of Sour Patch Kids, which are my favorite," he said, popping one in his mouth. "I've got a hardhat that I wear for ground-breakings. Some business cards. My gavel. A phone charger.
"Here's something I probably shouldn't have taken but I couldn't help it. It's a little plate that was by the elevator that says '14th Floor.' Here's a Virgin Orbit rocket replica… some Kit Kat bars. A copy of the budget. A picture of my first inaugural and a Metro Blue Line. And that's about it." 
We have to finally admit the fact that we're not mayoral material. We couldn't handle the Sour Patch Kids.
Elections update
A debate tonight will feature six of the candidates for the District 1 council seat, though one of the candidates, Hashim Muhammad, is no longer listed on the City Clerk's website. Apparently he and another candidate, Asha Nichols, were found to be living outside the Downtown area district.
Muhammad, though, is persistently pressing on: He posted a message this week with all-caps desperation saying he will be RUNNING AS A WRITE-IN, and will be launching a campaign to teach residents how to spell his name on the ballot.
Also attending the debate will be Ray Morquecho, Mariela Salgado, Misi Tagaloa, Mary Zendejas and Elliot Gonzales.
Zendejas is the favorite to replace now state Sen. Lena Gonzalez, who helped organize a fundraiser and campaign kickoff for the Transit Board Director on Tuesday night. All the cool kids were there, including the mayor.
Tonight's debate is from 7 to 9 p.m. at Toxic Toast Records Theatre, at 757 Pine Ave. The Post is planning to livestream the event on Facebook.
On the agenda
With budget season in full swing, the City Council agenda is light on substance Tuesday in favor of a special budget kickoff at 4 p.m. Tuesday. If nothing else, come for a peek inside the brand new Council Chambers while it still has that new-car smell.
The only item on the regular agenda at 5 p.m. is a series of appointments to various commissions. One nomination of note: Former 9th District councilman Steve Neal is being nominated to replace Lori Ann Guzman on the Harbor Commission, which oversees the Port of Long Beach and its massive budget. Guzman did not seek reappointment due to her new responsibilities as city manager of Costa Mesa.