Carrying signs that read "Broadway 'Road Diet' Endangers Lives," more than 100 residents and business owners marched along the Broadway Corridor on Monday in protest of what they say is a "road diet disaster."
In an effort to slow traffic and make the street safer, Long Beach earlier this year put Broadway on what's known as a "road diet." The city reduced the street to one lane in each direction between Alamitos and Redondo avenues and added an inner bike lane that's sandwiched between the curb and parked vehicles.
The project has been met with mixed reaction. While some say they feel safer, others say the reconfiguration is a poorly designed mess that's dangerous for drivers, pedestrians and cyclists. Some local business owners say the confusing parking situation has cost them customers.
"It's a terrible design," said Mark Malan, whose driveway borders Broadway at Lindero Avenue. "You can't see the bicyclists in the bike lane when you're pulling out or pulling in your driveway."
Protest organizer Robert Fox, who is running for the district's City Council seat in the March election, said the project needs a complete overhaul. He has made the Broadway issue one of the hallmarks of his campaign.
Among the complaints: The reconfiguration has less parking. Emergency responders are having trouble maneuvering the road. Businesses are having problems receiving orders because delivery trucks have limited space.
"Trying to get emergency services down the street now is absolutely impossible," Fox said. "This problem isn't disappearing anytime soon."
At least two Long Beach Transit bus drivers honked in solidarity as protestors stood on the corner of Broadway and Cherry Avenue.
Well over a hundred out here now @LongBeachPost pic.twitter.com/e2ZycNTADz

— Kelly Puente (@KellyPuenteTN) July 16, 2019
Second District Councilwoman Jeannine Pearce in a Facebook post on Saturday acknowledged the concerns and said the city will make some changes to the corridor.
Changes include:
Shortening red curbs at bus stops to add one to two more parking spots at every intersection. The

spots will be loading zones for a period of time and then will be overnight parking.
Adding a crosswalk at Esperanza Avenue.
Installing new signage for bike lanes.
Possibly changing trash pickup times.
Pearce noted some need for improvements, but she said there has also been a lot of misconceptions.
While the project did result in a loss of 30 parking spots on Broadway, the surrounding neighborhood saw an increase of 131 new spots on First and Second streets and 70 new spaces added to Appleton.
"This street is designed to save lives, slow traffic," she wrote. "We are still working to improve what the traffic engineers designed – to have it match with how we all move in corridor."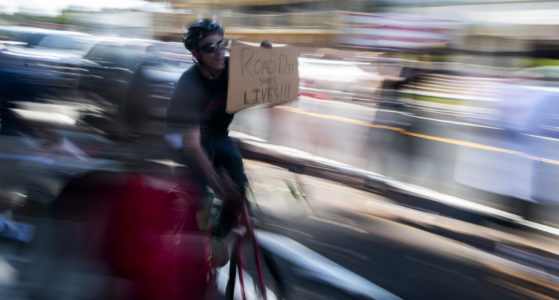 Monday's rally drew a handful of cyclists who counter-protested, chanting: "Road diets save lives!"
Angela Bachman, who bikes from her home in Downtown to work in Belmont Shore each day, said she feels much safer riding in the new Broadway bike lanes compared to the bike lanes along First and Second streets.
"It's great that we now have a well-lit bike lane," she said. "I don't feel like I'm gonna get doored every moment."