Missed one or two of these monthly lists? Click here for the full archive of Favorite Things I'm Eating. Looking for other food listicles? Click here.
****
A few years back, I wrote an Essential Long Beach Dishes listicle. I wrote it because there's something so elemental and useful about a specific great dish at a specific place; it was less about some grander proclamation than it was about, "This is just great food."
And I want to return to that, but the reality of that list is that some restaurants went out of business, some ingredients aren't around, moods shift, seasons alter, food changes. Constantly. So why not just own the moment? Without further ado, here are the favorite things I'm eating right now…
****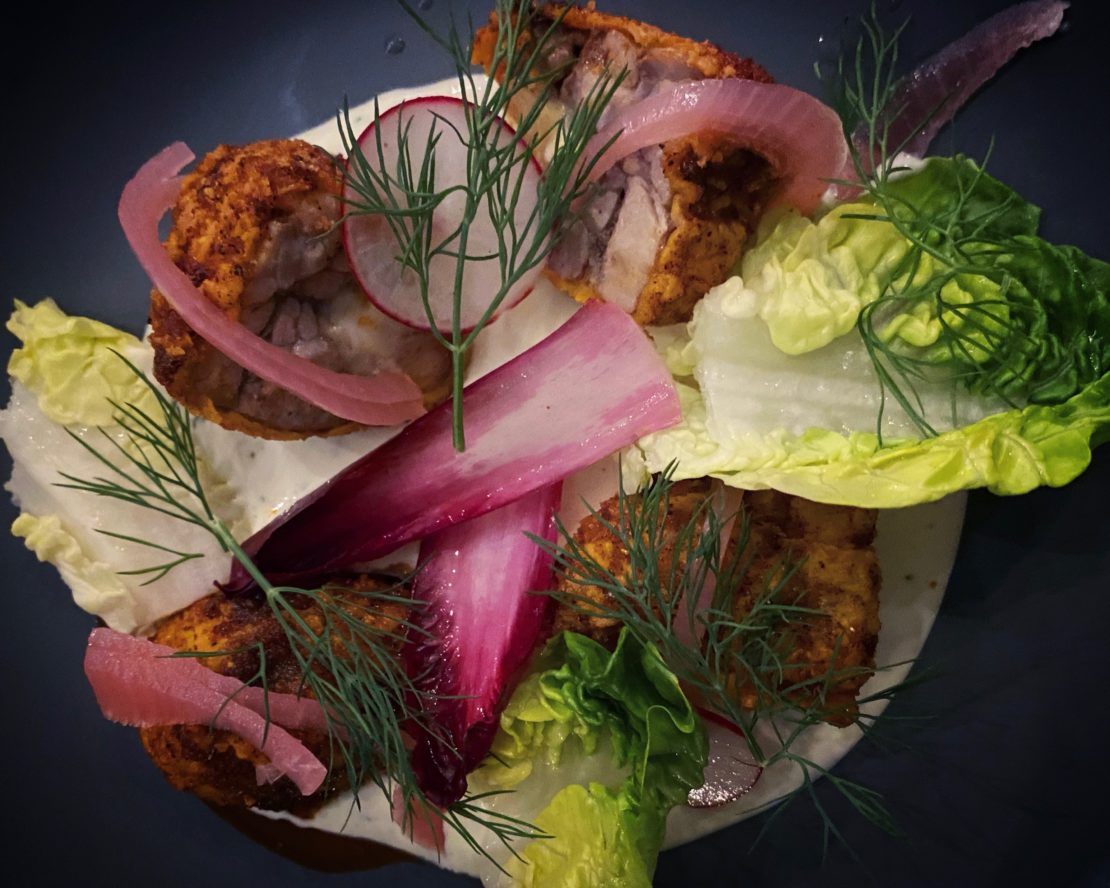 Nashville hot sweetbreads from Restauration
2708 E. Fourth St.
After facing a fire that all but burned down the entire building, Restauration, the Fourth Street bistro and patio owned by Dana Tanner and chef Philip Pretty, has officially re-opened—and we come with open arms. After a false alarm earlier this year—high hopes allowed Tanner to say they would be reopening on Mother's Day, only to encounter further setbacks—and hopes that they would be open by October, Pretty is now ready to show off his fall-meets-brunch-all-day menu.
What this means are many plates worthy of attention—a gorgeous duck leg confit, a beautifully braised-then-fried octopus, a perfectly charred pork belly—but it is one of the menu's most distinct offerings that is also one of Pretty's best: sweetbreads.
This plate of Nashville hot sweetbreads, gorgeously displayed on a swirling of crème fraîche and buttermilk, red Belgian endive, slivers of pickled onion, and plucks of fresh dill, is both delectable and addicting.
****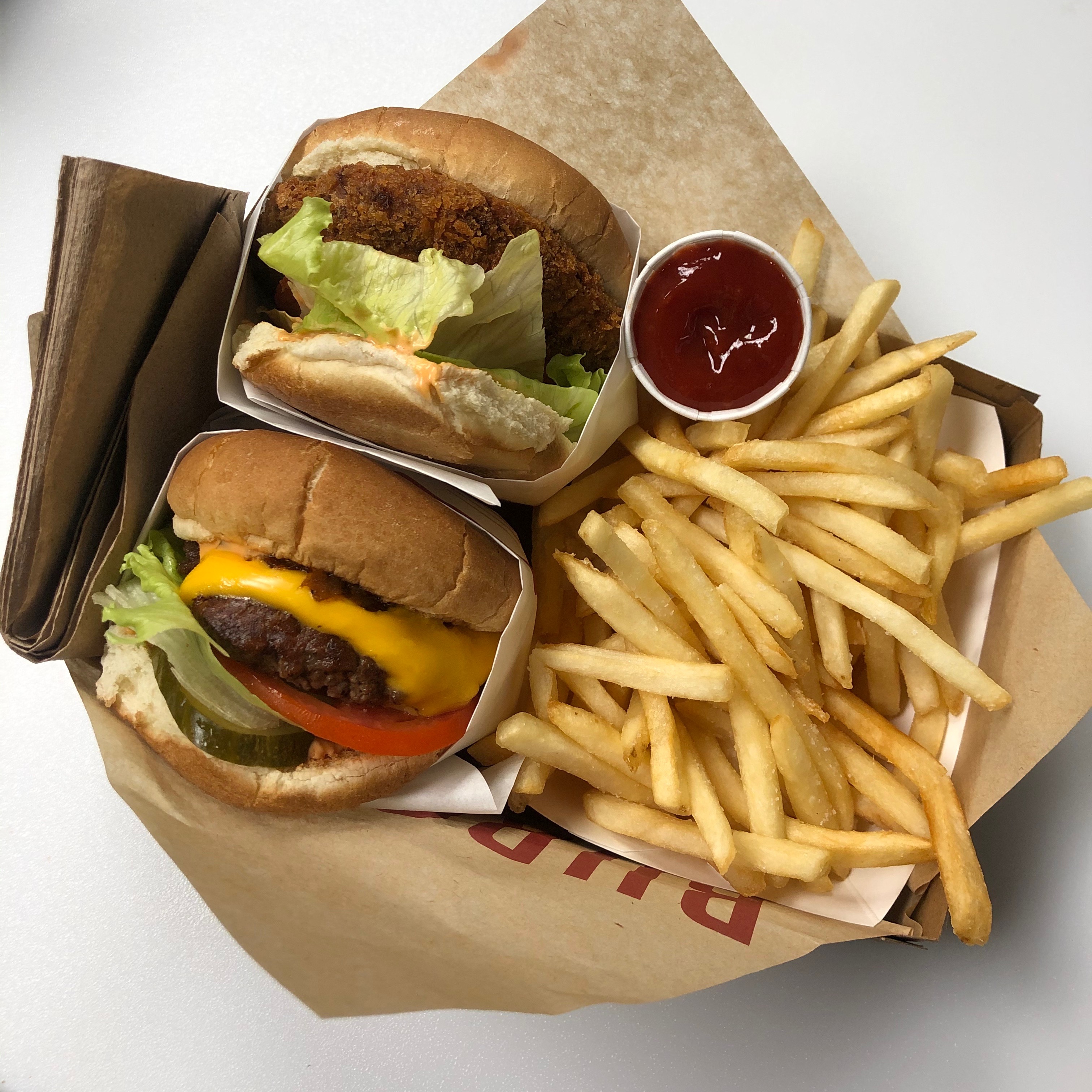 The Katsu Burger from Burger Daddy at Blind Donkey 
149 Linden Ave.
Burger Daddy has yet to open at its formal space above Blind Donkey but that doesn't mean they're inaccessible. With health permits approved, the city's newest burger joint can sling their offerings downstairs to the Donkey. Owned by John Bower (who also owns the Donkey), they have created a kiosk in the underground bar where you can order Burger Daddy burgers.
A spinoff of katsu sando—Japan's version of a fried chicken sandwich—the Katsu burger has a beef patty covered in panko bread crumbs before being deep-fried. There are five Katsu options, vegan included, but I would go for the Jucy Lucy. A beef patty is stuffed with cheese and onion before being breaded and fried and then stuffed between a starchy bun, lettuce, tomato, and pickles.
****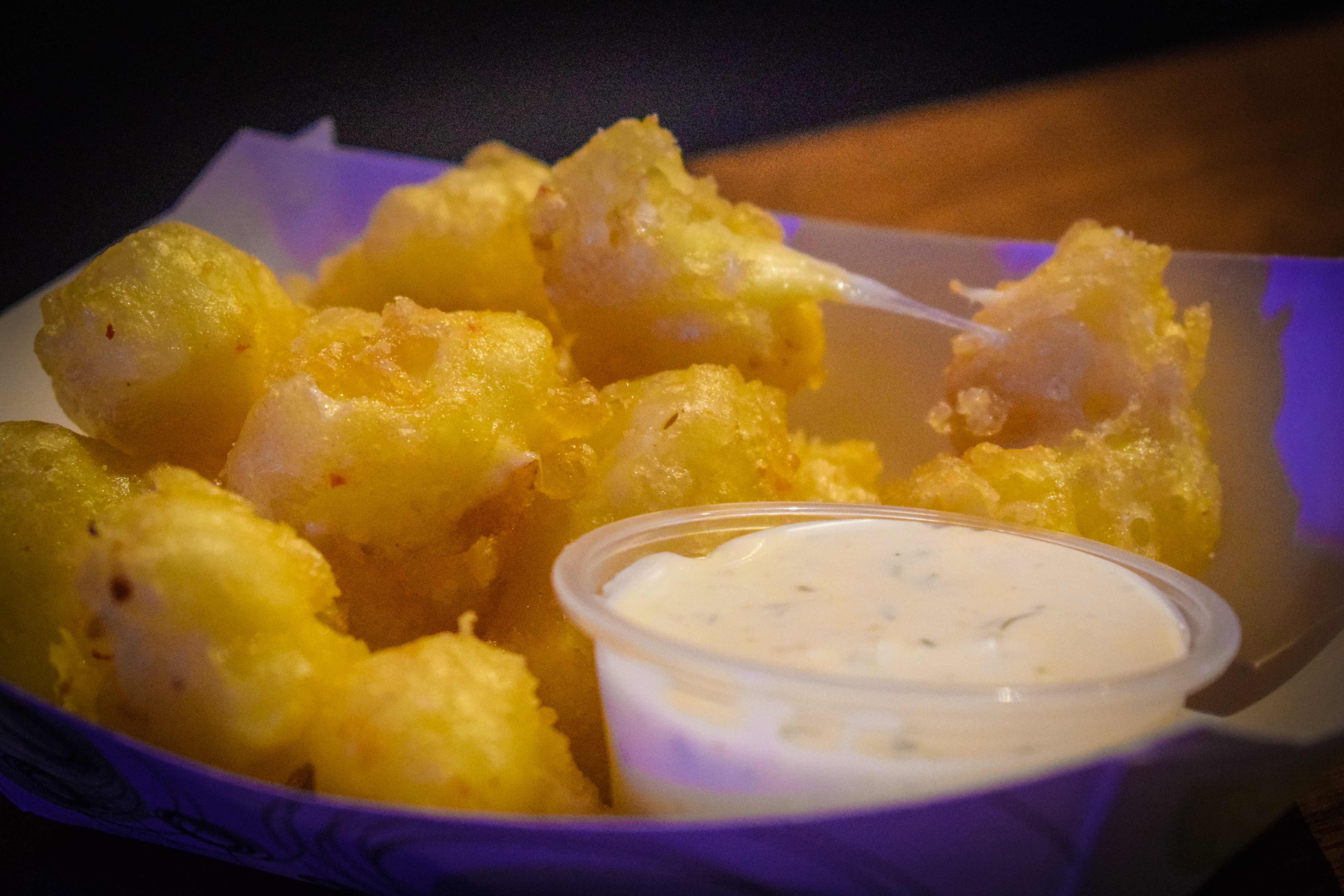 The fried cheese curds at The Stache
941 E. Fourth St.
Chef Melissa Ortiz, the woman who headed the inaugural, astounding menu at the Bamboo Club, has teamed with The Stache to exercise her skills in cooking what she describes as "straight-up good bar food."
And she's done it.
Yes, there are excellent chili cheese fries, an astounding burger, and other fare—but it's her beautiful fried cheese curds that are surprisingly light and genuinely worth savoring. Each little golden ball of creamy, crunchy Wisconsin cheese curds is covered in a delicate, tempura-like beer batter that one can lightly dip or heavily dunk into some house-made jalapeño ranch. Addicting and perfect with a beer, these bits of fried goldenness are the perfect representation of bar food.
****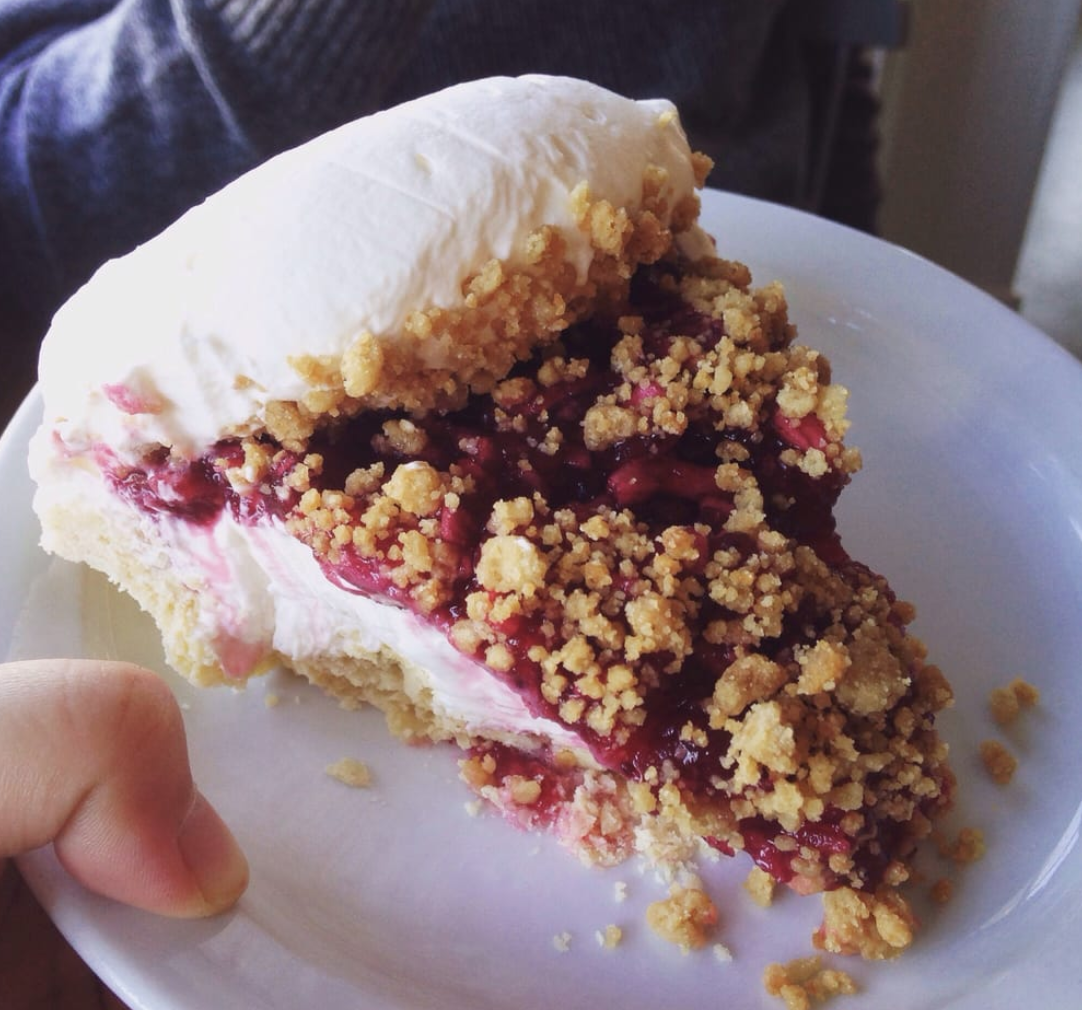 The Holiday Lush pie at Jongewaard's Bake n Broil
3697 Atlantic Ave.
In the words of Russ Parsons, in a perfect world, every neighborhood would have a Bake-n-Broil.
This Long Beach institution—and easily one of the city's most consistent, quality-driven food establishments—is known for its cream and cream cheese pies, from coconut cream to peach pineapple cream cheese.
But the holiday season is upon us and while you can score some holiday-centric pies like the pumpkin streusel or the very underrated walnut raisin pie—think of a pecan pie gone walnut—the defining holiday pie for the Bake n Broil is their Holiday Lush pie.
Sitting on the base of a chopped pecan crust, cuddling up to a filling of whipped cream with cream cheese whipped in—in the words of our pu lusher, "That's cream in cream"—and that sweetness is sliced with sour Granny Smith apples and tart cranberries. Add a final layer of streusel topping and more whipped cream and, well, you have a holiday masterpiece.
****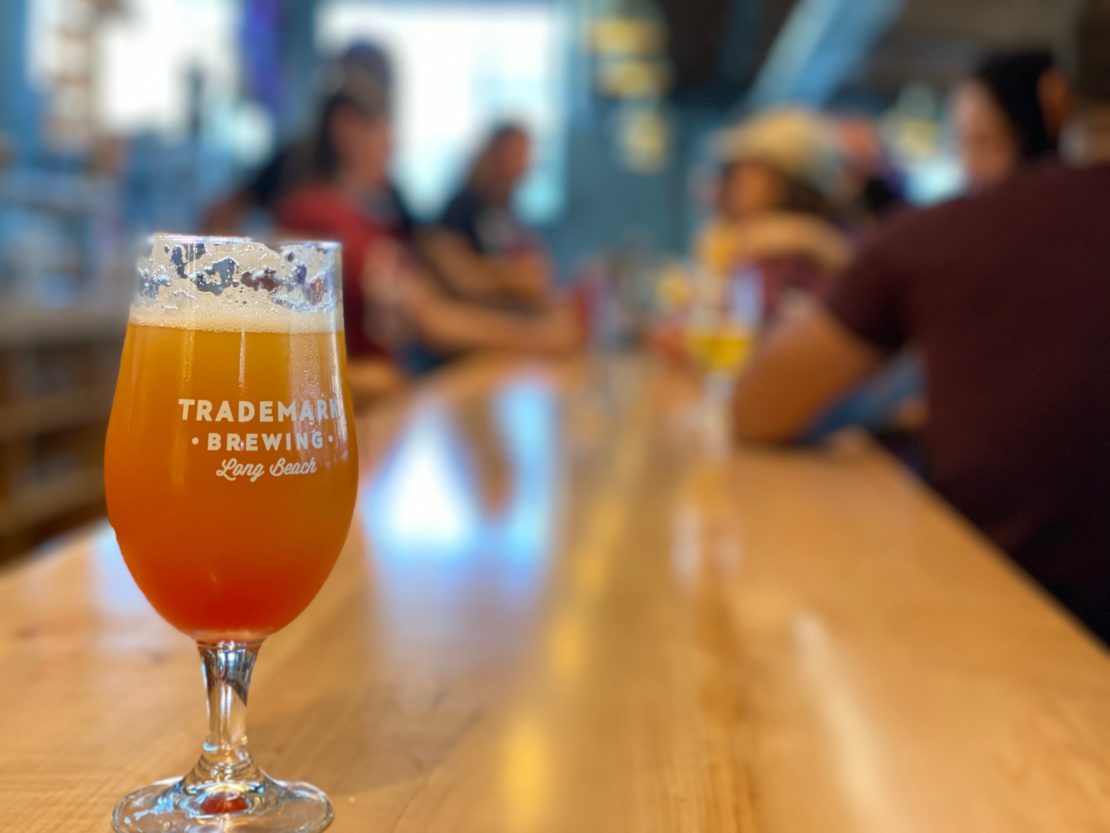 The Mai Tai beer at Trademark Brewing
233 E Anaheim St.
Trademark Brewing is showing its colors as a community-driven space that is constantly working with neighbors and its own employees to create a slew of events, specials, and genuinely good times. And it is also beginning to flex its muscles as a brewery looking outside the box with its libations. As the popularity of White Claw soars, it is a reality that folks want more than high ABV IPAs and Belgians.
Enter the Mai Tai beer cocktail. Using their hoppy wheat beer, Elastic Tradition as a base, owners Sterling and Ilana Steffen have created a house-made concoction that melds citruses—orange, pineapple, lemon—before a drop of grenadine adds a flare of red. 
The result? Feeling like you're in a Hawaiian version of Long Beach.
***
But, if I had to pick just one to live with for the rest of the month—just one—it would definitely be Chef Pretty's sweetbreads, something that is simultaneously special and of-the-moment that I would be remiss to have only experienced it once.
Brian Addison is a columnist and editor for the Long Beach Post. Reach him at [email protected] or on social media at Facebook, Twitter, Instagram, and LinkedIn.