The 7: Things to do this weekend including battling artists and songs about things that fly
As I was editing Steve Lowery's attempt at "The 7" last week (and generously taking the time to correct his myriad spelling and punctuation errors) I was thinking about how a good rule of thumb for a friendship is not to shout to the world the embarrassing stories you tell each other in confidence.
I am not a plant killer. It is not my fault that dear bulbous succulent no longer wanted to live. Unfortunately, there is no hotline for suicidal plants and you simply can't blame that on the one person, me, who was trying very hard to provide it love and shelter. Now that I think about it, I probably should have given it some sun instead.
Anyway…
Since we're on the topic of sharing our friends' most embarrassing stories, Lowery once ate an entire bag of Trader Joe's Quadratinis. They're these delicious, bite-sized, chocolate wafer cookies that should be eaten by the handful, not the bag, if you give a crap about your health and your daughter.
Wait, what?
They weren't even Lowery's Quadratinis, they were his daughter's, bought with her own hard-earned money. From what I know of Lowery's daughter, she's fit as a fiddle and takes her health seriously. So imagine, when the one morsel of sweetness she'd allowed herself for the week was gobbled up by the one person who is supposed to care for her more than himself. So, so sad.
Lowery tried to blame it on a certain type of greenery that had been passed around that evening, but honestly, what kind of a person mooches off their kids? People like Lowery do, that's who. A fair warning: hide all your sweets, your ganja and certainly your whiskey, if you know so and so is paying a visit.
Now that I've gotten that off my chest (it's hard keeping secrets), here's this week's "The 7" with plenty to do, from an art battle to songs about things that fly.
Friday
The Long Beach Expo rare collectibles show started Thursday and will run through Saturday, Feb. 2.  Expect hundreds of dealers buying and selling U.S. and World coins, stamps and sports collectibles, a kids' treasure hunt, multi-million dollar auction, seminars by collectibles experts and more. Check out the website for the full list of convention highlights, including one of the first U.S. gold coins on display.
The expo takes place at the Long Beach Convention Center, Hall A, at 100 S. Pine Ave. General admission is $8. Hours are Friday, 10 a.m. to 7 p.m. and Saturday 10 a.m. to 5 p.m. Click here for more info.
https://lbpost.com/life/arts-culture/not-to-be-forgotten-images-black-history-exhibit-leaves-jarring-indelible-mark/
Also running through Saturday is Forgotten Images, a traveling exhibit owned and curated by David and Sharon McLucas showcasing Black history and the African-American experience. It's in conjunction with the 7th annual "Caribbean Heritage" event, a free educational celebration of art, music, history and legacy.
Forgotten Images is viewable Friday and Saturday at the Expo Arts center, 4321 Atlantic Ave. Check out the full schedule of events and RSVP here.
Saturday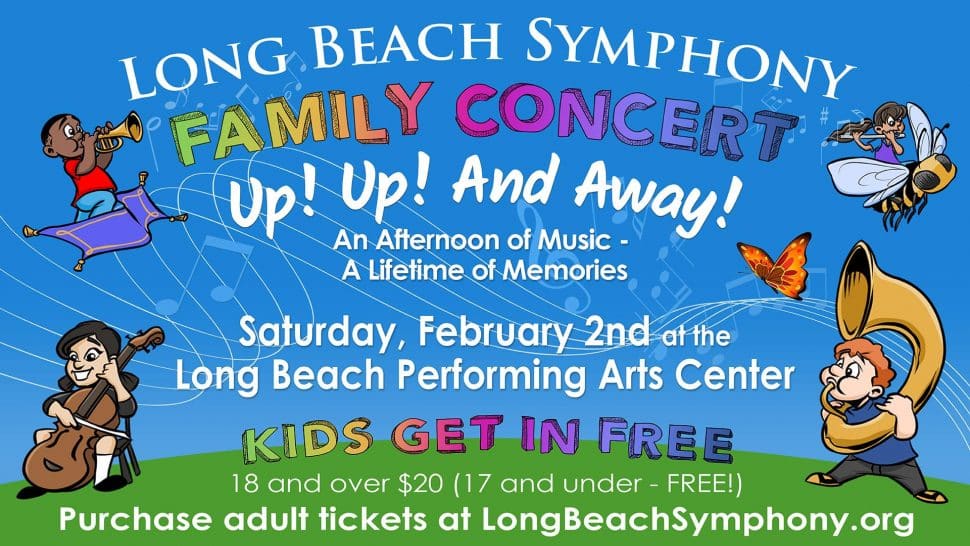 This Long Beach Symphony event is for the entire family. Anyone 18 and under gets in for free to experience "Up! Up! And Away!", a concert that explores things that fly (think Rimsky-Korsakov's Flight of the Bumblebee) preceded by two hours of free activities, including a musical playground on the Terrace Theater plaza.
Family activities on the plaza start at noon, the concert begins at 2 p.m. A Symphony Express shuttle station at the Michelle Obama Neighborhood Library (5870 Atlantic Ave.) will be transporting guests to and from the Terrace Theater (300 E. Ocean Blvd.). For tickets and more info check out the website here.
https://lbpost.com/life/food/vegan-district-pike-outlets-dtlb/
Vegan food purveyors from all over the region will be coming to Long Beach, Saturday, for the first vegan food court and marketplace at The Pike Outlets. Put on by the founders of Long Beach Vegan Festival, husband and wife team Kawani Brown and Edward Yniguez, this event will occur more often on the first Saturday of the month. You'll want to come hungry, with more than 20 vendors to try.
Vegan District will take place the first Saturday of every month beginning Feb. 2 at the Pike Outlets, located at 95 S. Pine Ave. For more information, click here.
https://lbpost.com/life/arts-culture/warehouse-mural-show-reopens-to-public-for-all-female-art-battle/
If you missed "Hello, Welcome" the warehouse mural show that may have been the art event of the year, its organizers are hosting a second event on Saturday, Feb. 2 in the same 5th-floor space called "Tooth and Nail," an all-female live art battle. It's one way the majority-male group of muralists are ensuring the duration of the show is balanced with female talent.
"Tooth and Nail" will take place at the Icehouse Arts Complex from 7 p.m. to midnight, 625 W. Anaheim St. Make sure to RSVP to attend here.
Sunday
https://lbpost.com/life/super-bowl-thats-a-thing-right-where-to-watch-and-what-to-do/
If you're looking for a place to land to watch the Super Bowl, Lowery has you covered. From Legends to Gallagher's, bars across town are getting ready for the big game. And, it's not just bars. Carnival Cruise lines is offering a Super Bowl Party at Sea: a Super Bowl-themed cruise from Long Beach to Ensenada and back. That may be a little much, but hey, YOLO, right?
Check out the full list here for all the details.

Bring the whole family to the University Art Museum for an art-making day in celebration of its latest exhibition, "Call and Response, When We Say… You Say." Lots of Southern California museums are free this weekend (for more info on Free-For-All Day click here), however it's worth noting admission to the UAM is always free (except for parking on campus).
A plaster cloth mask making workshop will take place from 1 to 3 p.m. Attendees can also make zines, while the UAM will be open from noon to 5 p.m., 1250 N. Bellflower Blvd. Visit the Facebook event here for details.
And lastly, here's an extra thing to do this weekend: vote for your favorite mascot in our UNOFFICIAL Cal State Long Beach UNOFFICIAL New Mascot Contest (it's UNOFFICIAL). Just visit this link, scroll through the submissions, and click "Vote" on your favorites. Can't decide which ones you like most? Find out what the judges had to say here.
Support our journalism.
Hyperlocal news is an essential force in our democracy, but it costs money to keep an organization like this one alive, and we can't rely on advertiser support alone. That's why we're asking readers like you to support our independent, fact-based journalism. We know you like it—that's why you're here. Help us keep hyperlocal news alive in Long Beach.