Veganuary with the Post

is a weekly, month-long newsletter from the Long Beach Post and the Hi-lo, with tips and tricks, recommendations, motivation and useful information to help you go vegan this January.
If some very smart person with excellent taste forwarded this newsletter to you, you can subscribe here.
It's New Year's Day, you've just woken up—possibly hung over—and now you're vegan. What do you do?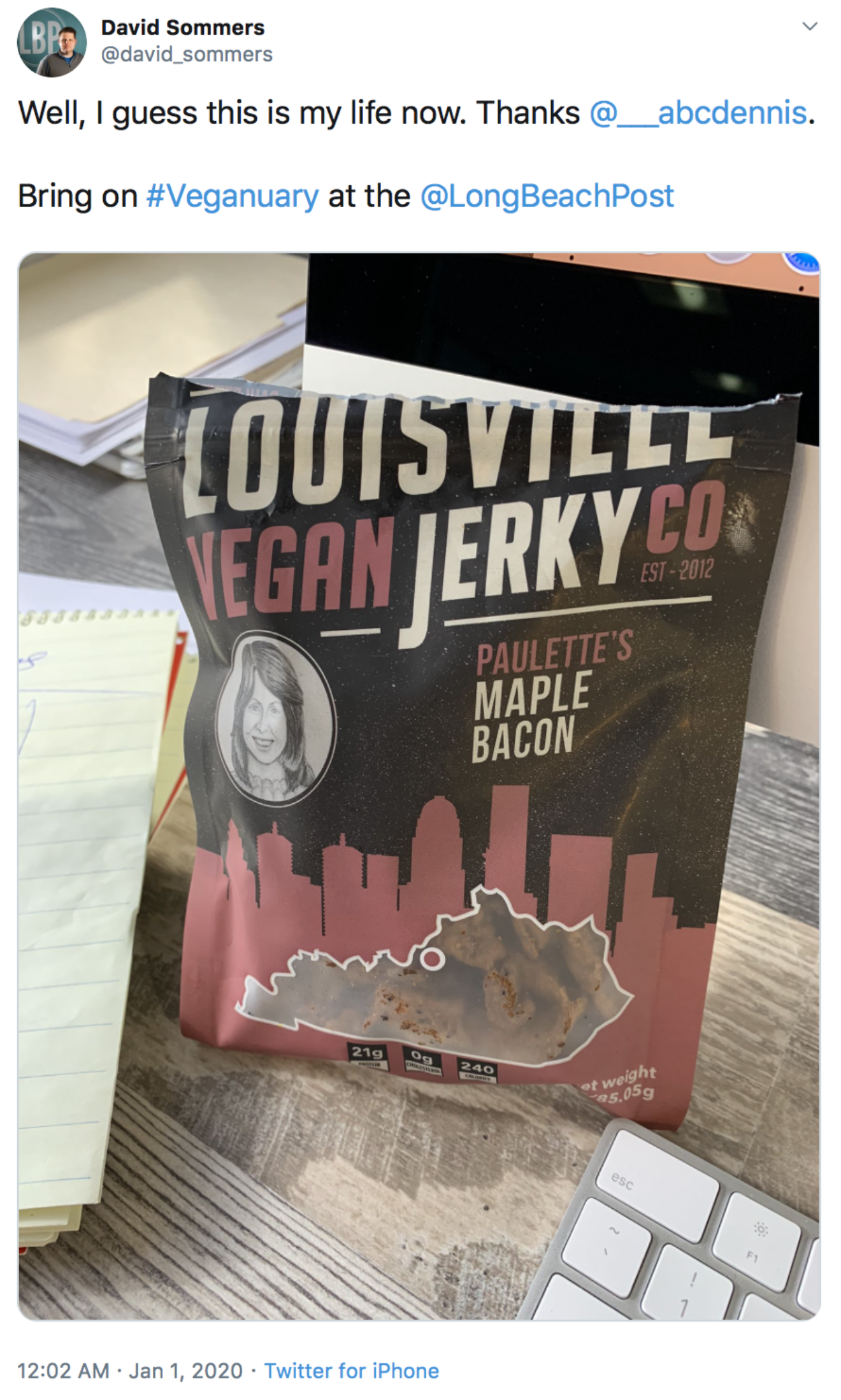 Don't Panic
First thing's first Kafka, let's get you something to eat. Going vegan for a month is a great way to re-connect with your love of cooking if you, like me, have been neglecting your kitchen and racking up Postmates bills for a while.
But, for the moment, let's focus on getting some coffee and some grub (and possibly a hair off of that dog that bit you).
Wide Eyes Open Palms, one of Brian's favorite restaurants in Long Beach, is serving a special New Year's Day menu with vegan options, plus limited items from their normal menu, from 9:30 a.m. to 2 p.m. today.
416 Cherry Ave.
562-386-2031
Another entry on the top 25 list, The 4th Horseman, is cooking up a special vegan chili with black-eyed peas for good luck from 11 a.m. to 11 p.m. While you're there, grab a Frailty pizza with everything and thank me later.
121 W. Fourth St.
562-513-3394
If your body is craving classic diner fare (but make it vegan), head over to The Grain Cafe between 9 a.m. and 9 p.m. to grab some french toast, some chilaquiles or a veggie omelette made with tofu eggs (more on that in a minute).
4403 E 4th St.
562-386-2922
Retail Therapy
Alright, you've eaten, you've had your coffee and you're feeling good. Time to start planning for the week to come. The great thing about going vegan in 2020 is there have never been more tasty, off-the-shelf choices for vegans, and you don't have to break the bank to try them all, either.
One small piece of advice for first-time vegans: Plant-based meats and cheeses (and other products like eggs, mayo and milks) have come a long, long way in the last few years. Nevertheless, they're not going to be exactly like "the real thing." Some products will be a lot closer than others, but I've found that things like vegan cheese are a lot more satisfying if you've had some time to detox from the real stuff.
In the coming weeks, we'll have some power rankings of our favorite vegan products, but in the meantime, it could be a good idea to focus on meals that are heavy on the veggies, grains and legumes and leave veganizing mom's famous triple cheese cheeseburger casserole for next week.
Once you've got some ideas for your all-vegan shopping list, it's time to stock the fridge and the pantry. A couple places around town I like to do my shopping are:
Mother's Market: I know I said take it easy on the vegan faux- products for the first week, but I need you to know, this place is like vegan Disneyland. In addition to a great selection of specialty products, they also have an in-store cafe if you (like me) are already hungry again.
2475 Cherry Ave, Signal Hill


562-294-2667



Grocery Outlet: If you're looking for a bargain, this place is awesome, especially for stocking up on staples like peanut butter, jarred pasta sauce, and tortillas. (Those are my staples; aren't they everyone else's?) They don't really separate out their vegan products like some other grocers do, but if you're willing to hunt around a bit I've found some awesome deals on specialty products that are usually a bit on the pricey side. The selection changes every week, so it's always a toss-up. Don't buy your produce here unless you plan on using it right away, because it's all pretty close to its sell-by date.
1340 E 7th St.
562-349-0393

Sprouts: For stocking up on bulk items like beans, nuts, seeds and nutritional yeast (more on that another time) Sprouts' prices are generally much friendlier than the Whole Foods bulk section, and the selection is better.
4253 Woodruff Ave, Lakewood


562-739-2541


12301 Seal Beach Blvd, Seal Beach


562-794-2125



Before we leave you to fend for yourself for the rest of the week, we have a few more recommendations to help you set yourself up for success.
There's an app for that
21-Day Vegan Kickstart, a meal-planning app from the Physicians Committee for Responsible Medicine, makes planning your shopping easy and provides tons of plant-based recipes.
Two other recipe apps to check out are
Forks Over Knives, from the creators of the documentary by the same name, and Food Monster from One Green Planet.
InstaVeggie is a Long Beach-only, all vegan and vegetarian food delivery app developed by
CSULB graduate and Long Beach resident Valentin Zachesov. Not only does InstaVeggie list popular vegan and vegetarian restaurants, but Valentin and his team go through the menus of omnivore restaurants and pull out the vegan items, with any necessary customizations to veganize the dish already made for your convenience.
If you (like me) are on the road this New Year's Day, Happy Cow is an invaluable resource for finding vegan restaurants and dishes abroad. Happy Cow crowd sources reviews from vegans and vegetarians to help you find the best vegan options in whatever city you're in, in something like 175 countries. A great feature, if you're traveling with non-vegans, is to filter restaurants by "veg-options," which gives you restaurants that serve both meat and vegan dishes.
If you (like me) are currently swearing to the universe or whatever deity you believe in that you'll never drink again, put this one in you back pocket for later when you inevitably go back on that promise. You might be surprised to learn that not all alcoholic beverages are vegan, but Barnivore makes it easy to look up whether your beer, wine or liquor is vegan-friendly.
Keep at it
We'll be back next week with more recommendations, tips and tricks and hopefully some motivation to help you keep at it all month long. In the meantime, stay connected with us through Facebook, Twitter and Instagram, and let us know how it's going.
If you have questions about going vegan you'd like answered here in the newsletter, drop us a line at

[email protected]

.