Police are looking for two men who violently robbed a street vendor in the Washington neighborhood on Monday afternoon, officials said.
The victim, 51-year-old Bililfo Fernandez, said he was selling elotes to a small crowd of customers on Locust Avenue near 14 Street. When he finished and handed elotes to the last two men, one of them pulled out a gun and asked for Fernandez's money, he said.
Once he saw the gun, Fernandez said he ran. The suspects chased him, punching him during the pursuit, and he fought back, according to Fernandez. One of the suspects then pistol-whipped him in the back of his head, which made Fernandez lose consciousness and collapse beside a parked car. Security camera footage shows the other suspect then taking items from Fernandez. He said they stole his phone and about $50.
During the fight, Fernandez said several bystanders tried to come to his aid, but they were immediately halted after one of the suspects pointed his gun at them.
At around 4:18 p.m., officers said they found Fernandez on the ground suffering from a small laceration and complaining of pain. The Long Beach Fire Department arrived and treated him at the scene.
Police said the suspects fled in a tan colored Mercedes-Benz coupe.
One of Fernandez's daughters, Maribel, said he was taken to Long Beach Memorial Hospital where he was treated for swelling in his head and blood clots. Maribel said she and her family felt relieved to see him return home Tuesday afternoon.
For over 20 years, Fernandez said he has been a vendor who regularly sells elotes and raspados in that neighborhood.
After taking some time to reflect at the hospital, Fernandez said that if he would have just given the robbers the money, it wouldn't have turned violent, but that's not what he was thinking in the moment.
"It's not like I was going to give it to them that easy," he said in Spanish. "The easiest thing I could think of is to run, but well, I didn't make it very far after all."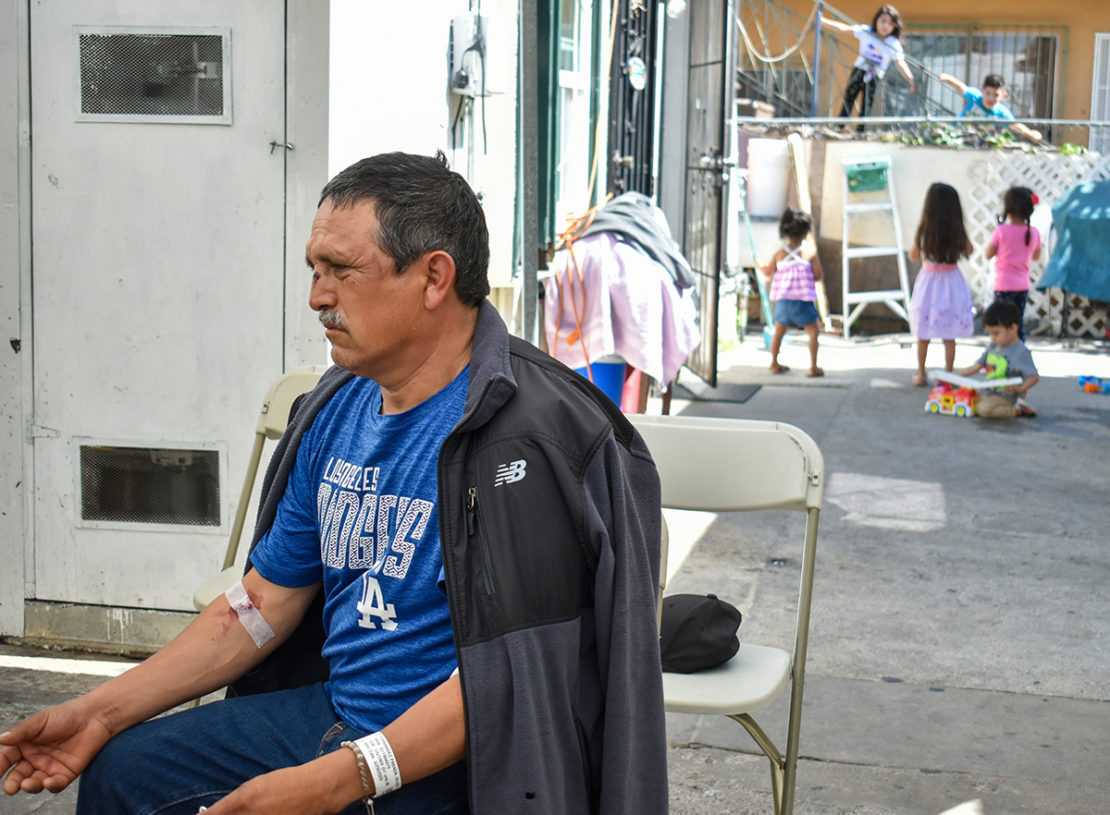 After he recovers in about two weeks, he said he plans to start vending again.
Fernandez said he's not afraid to return to work because he believes that the suspects were not from the area; he lives just a few blocks away from where the incident happened and said he recognizes his normal customers.
Another daughter, Erika, has already raised over $62,000 for her father's medical expenses on a GoFundMe page.
Officials are asking for the public's help in identifying the suspects, who are both described as 20 to 25 years of age and 5 feet, 6 inches tall with a thin to medium build.
Anyone with any information regarding the incident is urged to contact LBPD Robbery Detective Eric Hubbard at 562-570-7464.