The candidates for 2020 are set; your thoughts and prayers are appreciated
The Backroom is a column by the staff of the Long Beach Post with notes and analysis, along with bloops and blunders, from the city's political scene. It runs every Thursday. To contact us, email [email protected]. For questions or concerns, please contact Managing Editor Melissa Evans: [email protected] or 562-437-5814. 
Members of The Backroom voted, and the results are in: Our preferred method of death is to be face-planted into the Pacific Ocean at 30 knots after launching our collective selves off a trampoline from the new Carnival Panorama Sky Zone.
Your thoughts and prayers will be appreciated.
Can we keep her?!
In the meantime, The Backroom has acquired the services of Senua, our new dog (who was in fact the only dissenting vote in our poll; her preferred method is death by chocolate bundt cake). She has assumed the role of Morale Director, a job for which she's better suited than Motivation Director, since The Backroom's productivity has plummeted by 20% since she began. Senua's skill set includes sitting, staying, lying down and, when there's sufficient incentive, like a bundt cake, rolling over.
Rise of the challengers
The Los Angeles County Democratic Party announced Wednesday it is endorsing challengers—not the incumbents—in the 6th and 8th council districts. This is certainly noteworthy in and of itself: The party is throwing its influence and fundraising heft behind Suely Saro, who is challenging Dee Andrews in the Central Long Beach district; and Tunua Thrash-Ntuk, who is challenging Al Austin in the Uptown district.
But wait, there's more!
Austin is crying foul over the fact that Thrash-Ntuk's husband, Uduak-Joe Ntuk (a current Long Beach City College board member) is chair of the Democratic party's endorsing committee for Assembly District 70. Austin on Monday sent a formal protest via email to local party chairman Mark Gonzalez objecting to the process and potential conflict, and also noted his long history and involvement with the party.
The Ntuk family connection indeed strikes us as fairly significant, so we called Gonzalez on Wednesday to ask what gives.
We didn't get a response, however we were able to reach Ntuk, who said he properly recused himself from the committee's decision on Saturday and didn't chair the session. He was in the room, but noted that any registered Democrat has a right to be there.
Asked whether he campaigned or tried to influence the decision in favor of his wife, Ntuk said, "She does that for herself. I'm not the candidate."
In addition to Thrash-Ntuk, Juan Ovalle also qualified for the ballot in the 8th.
Cambodians consolidate
Saro has snagged a number of endorsements in her bid to unseat Andrews, but a more significant development happened last week, when Steve Meng, a fellow Cambodian, announced he was withdrawing from the race.
In all fairness to ourselves, The Backroom had thought Meng's dropping out of the race was a good idea for the Cambodian community weeks ago, but we didn't want to be accused of using our immense power to influence the election process.
At any rate, the withdrawal of Meng should solidify the Cambodian vote behind Saro. How sizable that vote will be remains to be seen. It is estimated that as many as 20,000 Cambodians live in Long Beach, home to the largest concentration outside of Southeast Asia.
Cambodians are spread throughout three council districts: 2, 4 and 6, though Central Long Beach—notably the Anaheim corridor—is home of Cambodia Town. It will be interesting to see how Saro competes with Andrews, who has lived in the 6th for more than 70 years and is very, very well known.
There are, we should mention, officially four other candidates who qualified for the ballot as of the Dec. 6 deadline: Ana Arce, Sharifah Hardie, Craig Ursuy and Josephine Villansenor.
Wide open field
The slate of candidates for all of the March 2020 elections has been set, and it looks like there's competition in both races for Long Beach Unified School Board of Education, which has two of five seats wide open (incumbents Felton Williams and Jon Meyer are not seeking reelection).
For District 4 (East Long Beach, Signal Hill and Avalon): We already knew that current LBCC board member Doug Otto was in the running, but two others also filed with the Los Angeles County Registrar:
Nancy Valencia, who makes some bold statements on her website about why she is running (to promote a culture of inclusion and a "climate of caring" in schools, to expand language opportunities and to support students and prepare them to enter college and the workforce).  
Davina Keiser, a teacher who attended LBUSD schools, who says on her website she is running to restore vocational programs that were eliminated during the recession, to fix the advisarial [sic] relationship among the board, staff and teachers and better market LBCC … wait. Hold on. Keiser, who ran unsuccessfully against Otto for the LBCC board twice, probably needs to update her website—and run spell check.
Otto, who is ready to wash his hands of the mess on LBCC's Board of Trustees, certainly has experience. He's a lawyer, former planning commissioner and an LBCC trustee since 2004. He's also scooped up endorsements from the Police Officers Association, Assemblyman Pat O'Donnell and others.
For District 2 (Central, West and Downtown areas): Three candidates are seeking to fill Williams' position on the board; nothing new here: Erik Miller, director of Operation Jump Start who unsuccessfully ran for the 6th Council District in 2016; Tonia Reyes Uranga, a former city councilwoman (2002-2010); and John Mathews II, who is senior legal counsel for the Justice Collaborative.
This will be an interesting contest. Seriously. Pay attention. Miller has the endorsement of the Teachers Association of Long Beach; Mathews has the endorsement of Williams himself, who penned a letter to the editor in the Grunion Gazette stating he personally asked Mathews to run; and Uranga, well, is just formidable (she's also been endorsed by Supervisor Janice Hahn, Sen. Lena Gonzalez and others).
Out of style
On one of our frequent trips to City Hall recently, we were stunned and saddened to see a Santa hat draped over the L in the plaza's Long Beach sign, a flagrant and direct violation of the city's new style guide, which specifically insists that there be no tolerance for monkeying around with city signage. The guide even cites as an example of such horseplay as hanging a Santa Hat on the city's logos.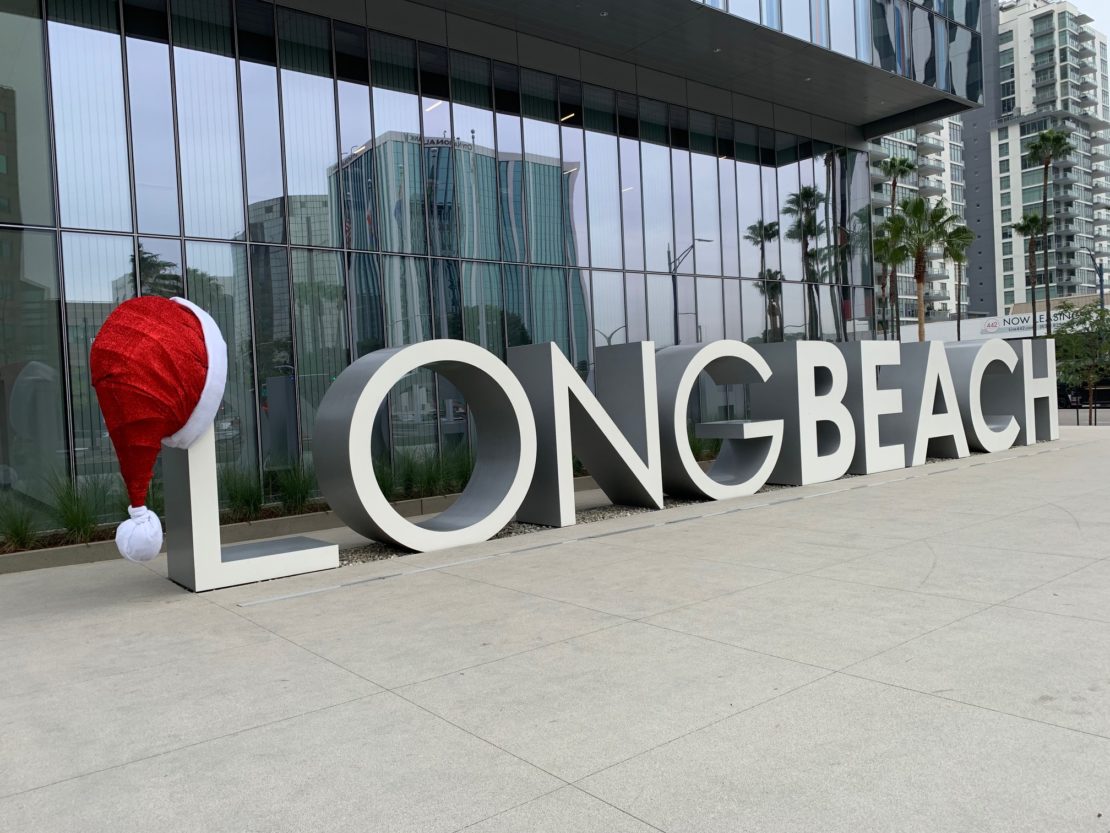 Now, we take a back seat to no one when it comes to celebrating the holidays, but playing fast and lose with the city's signage is where we draw the line. We voiced our concern with Kevin Lee, the city's chief public affairs officer who oversaw the creation of the style guide that was released this year.
Lee told us that Santa, too, was against the horrible defacing of the sign, but that his wife, Sandra Claus, overrode him as she has a tendency to do. Lee commented in a message, "The Claus family has invited me to the North Pole in April 2020 to revisit the style guide, along with the Easter Bunny. I hear it's lovely there in the spring."
Yes, it is, because the poles are shrinking due to global warming. Is there something funny about global warming?
Editor's note: This article has been updated to reflect that the Los Angeles County Democratic Party's endorsement decision was made on Saturday, not Tuesday.
Support our journalism.
Hyperlocal news is an essential force in our democracy, but it costs money to keep an organization like this one alive, and we can't rely on advertiser support alone. That's why we're asking readers like you to support our independent, fact-based journalism. We know you like it—that's why you're here. Help us keep hyperlocal news alive in Long Beach.