Three weeks since anger erupted in Long Beach over the death of George Floyd and other Black men and women at the hands of police, scores of people are still protesting. On Sunday, more than 100 people took their demonstration on the road with a car caravan that stretched from North to Central Long Beach.
The caravan mixed driving throughout the city with on-foot gatherings at places like Houghton Park and Martin Luther King Jr. Park.
Long Beach resident Cammie Johnson said she and other organizers chose the route to stand up for some of the historically Black communities they believe are experiencing over-policing from the Long Beach Police Department.
"We're pretty much being over-policed in a small mile radius on the Northside as compared to any other part of Long Beach," said North Long Beach resident Stanley James II.
For the first time since the protests began with a massive march in Downtown Long Beach on May 31, demonstrators took their message to the headquarters of the Long Beach Police Officers Association, the union that represents local cops.
Police unions have become a target of ire from protesters across the country who say they've historically stood in the way of reforms and protected cops from discipline and transparency. The Long Beach Police Officers Association, for example, sued to keep the names of officers who'd shot people from being released before eventually losing in the California Supreme Court.
At the union headquarters, organizers held a demonstration of 13 volunteers laying bellies down on hot asphalt with their hands behind their backs as other volunteers knelt by them for 8 minutes and 46 seconds, matching the amount of time Minneapolis police officer Derek Chauvin had his knee on the neck of Floyd. Chauvin has been charged with murdering Floyd.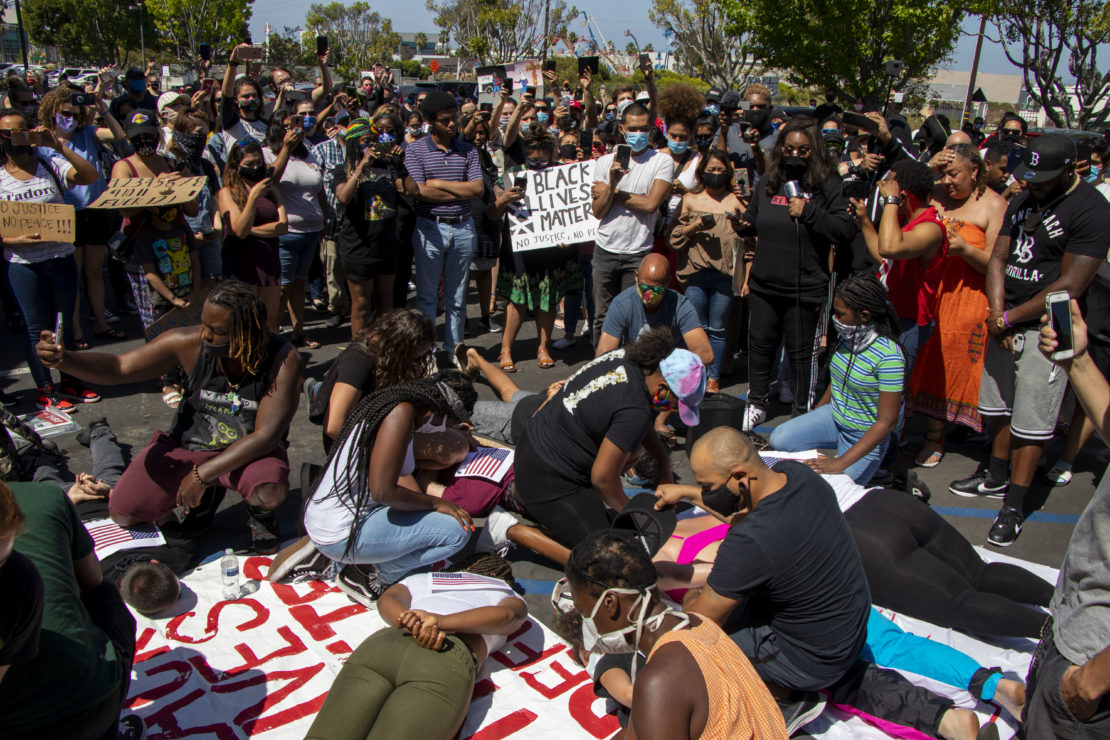 The Long Beach Police Officers Association has said it's open to conversations about reform.
"We understand the anger the public is feeling because our police officers feel it too," said Rich Chambers, president of the union.
Hours before protesters started driving through Long Beach, the police unions representing Los Angeles, San Francisco and San Jose police released a framework of changes they planned to advocate for.
They included:
"We are looking closely at reform proposals coming out of cities such as Los Angeles and we are open to working with both community and city leaders to collaborate on ways to make policing better in Long Beach," Chambers said.
Like many other demonstrators, Sunday's protest called for action beyond reforms, including pulling police officers out of schools and reallocating funding away from the police department to limit their size and the scope of officers' responsibilities.
"We are revolting; we are resisting, and we are going to stand up to all of these things in our community," Johnson said.
Jeremiah Dobruck and City News Service contributed to this report.